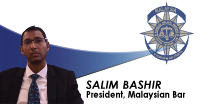 While citizens and residents in Malaysia must comply with Movement Control Order ("MCO") regulations, law enforcement authorities must be aware and cognisant of, and acknowledge the right to movement, for essential reasons, which is still recognised in the MCO.
Many people who hitherto existed in the shadow of society, still need to find food for their families. Notwithstanding the excellent work being undertaken by several non-governmental organisations ("NGOs") in making deliveries, more and more marginalised communities are facing increased challenges in respect of the lack of food and other everyday provisions.
The Government must ensure that persons detained are not exposed to a heightened risk of COVID-19 infection. Enforcement authorities must always adhere to strict measures to avoid any possible breach of safety and health risk to detainees.
Even as there is a need for the public to strictly observe and respect the MCO directive, the Government must strike a balance in dealing with breaches of the MCO. Excessive punishments like imprisonment or imposing the maximum compound payable will result in injustices, especially when people have lost their jobs and have no income. Extenuating circumstances of an offence is a strong mitigating factor in determining a sentence.
We need to be aware that elsewhere in the world, Governments and prison authorities are releasing some prisoners in order to lessen overcrowding in prisons, and reduce the spread of COVID-19. In Malaysia, the consequences of the Government seeking to impose heavier sentences could lead to more persons being incarcerated, which is not a good thing in light of the COVID-19 pandemic. Places of detention are generally acknowledged by health authorities as being clusters for the spread of the virus.
The enforcement authorities must ensure that a person arrested has access to legal representation. The constitutional and legal rights of an arrested person or an accused cannot be suspended, sidestepped, or superseded.
It will be ironic if policies during the period of the MCO result in a greater number of COVID-19 cases. This will unnecessarily prolong the duration of the lockdown and be counterproductive.

Salim Bashir
President
Malaysian Bar
16 April 2020