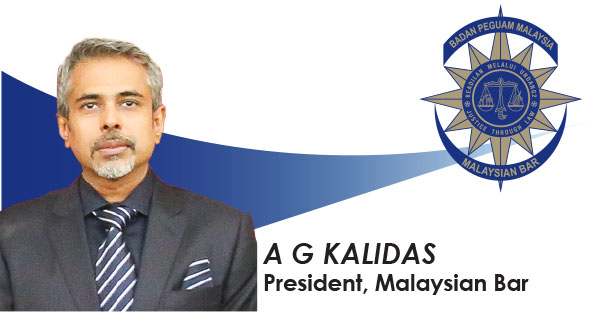 On 1 November 2021, the Presidents of the Malaysian Bar, the Advocates Association of Sarawak, and the Sabah Law Society, co-signed two letters, one addressed to HE the President of the Republic of Singapore, and another addressed to HE the Prime Minister of Singapore. Both letters essentially called upon the Government of Singapore to exercise its power of clemency to commute the death sentence imposed upon Nagaenthran K Dharmalingam, a Malaysian national who had been convicted of drug trafficking in Singapore, and who was scheduled to hang on 10 November 2021. The letters were personally delivered by the President of the Malaysian Bar on behalf of his fellow Presidents and himself to HE the High Commissioner of Singapore to Malaysia, who was gracious to receive him and his small delegation, in person.
Fortuitously, the execution did not proceed as scheduled, because Nagaenthran contracted COVID-19 in prison.1 Nevertheless, the death sentence remains.
On 12 November 2021, the Government of Singapore replied to the letters. In essence, the Government of Singapore reiterated that Nagaenthran had enjoyed the full benefit of legal due process within the criminal justice system in Singapore. He had received legal representation at trial, and his medical condition — he has been identified as having an IQ of 69 — had been fully taken into account in subsequent appeals and other legal proceedings. The courts had decided that his intellectual capacity was not diminished, and that he was fully cognisant of his actions and fully appreciated their legal consequences. As such, there was no reason to disturb the finding of guilt and the imposition of the death penalty.
Our call to the Government of Singapore was in relation to the issue of clemency. This is a process that is extra-judicial that takes place after all judicial processes are exhausted. We note that an earlier application for clemency had been rejected. Given the reported further deterioration of Nagaenthran's mental condition, we believe that a reconsideration of clemency is warranted.2
We note that many international,3 regional4 and national organisations, governments,5 civil society bodies,6 and individuals7 have written to the Government of Singapore in support of the abolition of the death penalty and the commutation of Nagaenthran's death sentence. Many that have done so, including the three Bars in Malaysia, have noted that Singapore has signed and ratified the UN Convention on the Rights of Persons with Disabilities ("CRPD").8 As such, we hope that Singapore will give effect to commitments that it has made under the CRPD.
We sincerely and strongly urge the Government of Singapore to give this all due and necessary consideration. We have always had a close relationship with Singapore — our neighbour to the south. We respect its sovereignty and laws, but what we are merely asking for is compassion to be extended to our citizen who has been medically diagnosed as being of impaired intellectual ability and has been languishing in a cell for more than ten years in a foreign country. All we are asking for is humanity.
A G KALIDAS
President
Malaysian Bar
17 November 2021
---
1 "Nagaenthran to receive medical attention for Covid-19", Malaysiakini, 10 November 2021.
2 "Rights experts urge Singapore to halt execution of man with mental disability", UN News, 8 November 2021.
3 "Singapore: IBAHRI calls for revocation of scheduled execution of Nagaenthran Dharmalingam", International Bar Association, 8 November 2021.
4 "Statement of Concern Regarding Imposing the Death Penalty on Mr Nagaenthran K. Dharmalingam in Singapore", LAWASIA, 10 November 2021.
5 "PM Ismail appeals to Singapore's Lee as execution of Malaysian man draws closer", Malaysia Now, 7 November 2021.
6 "Press Statement No. 39-2021_SUHAKAM is Concerned with the Case of Nagaenthran K. Dharmalingam", SUHAKAM, 10 November 2021.
7 "Nagaenthran's sister pleads with Singapore to give brother a second chance", The Star, 15 November 2021.
8 "UN Convention on the Rights of Persons With Disabilities (UNCRPD)", Ministry of Social and Family Development (Singapore).