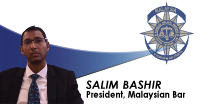 The Malaysian Bar views with concern, recent reports of arrests of undocumented migrants in various locations across Kuala Lumpur, as part of a multipronged approach to tackle the spread of COVID-19.
1
It is feared that such a move on the undocumented migrants will instead send counterproductive messaging through the community. Due to the mass arrests, such migrants may evade the authorities, or avoid and refuse to seek medical treatment, for fear of their status, when they are a community at high risk of contracting COVID-19.
The arrests and detention of such large numbers of undocumented migrants may instead also lead to a heightened exposure to COVID-19 infection. There must be proper protocols of infection control implemented to ensure that persons detained are not unduly exposed to being infected with COVID-19. Steps must be taken to avoid situations of herding arrested persons in groups into crowded transportation, and then into potentially crowded detention centres, with absolutely no observance of social distancing, or other protective measures. As places of detention have been generally acknowledged by health authorities as being clusters for the spread of the virus, the Malaysian Bar calls on enforcement authorities to always adhere to strict measures to avoid any possible breach of safety and health risk to detainees. It cannot be that these policies to curb the spread of COVID-19 result in a greater number of COVID-19 cases.
It also bears reminding that there could be various reasons for the presence of these undocumented migrants. These range from cases of expired permits that have not been able to be renewed by employers due to restrictions on movement during the period of the Movement Control Order ("MCO"), asylum seekers who have yet to get their certification from the United Nations High Commissioner for Refugees ("UNHCR"), or those who are victims of long-term systemic failures, among others.
As a nation, we have relied on these communities who constitute our informal labour market and economy. The Malaysian Bar calls for a more sustainable solution, which should involve opportunities for amnesty and a regularisation programme to resolve these issues.
The Malaysian Bar also calls on the Government to consider halting the current enforcement action and to focus instead on ensuring that all persons alike cooperate to reduce and stop the transmission of COVID-19. The Government should instead be assuring everyone, as they have in the past,2 that all persons — including migrants — have access to COVID-19 testing and the necessary medical assistance and treatment they require, without fear of being reprimanded for their status. This alone should be our nation's utmost priority during these trying times.
Salim Bashir
President
Malaysian Bar
4 May 2020
2
"
Covid-19: Illegal migrants at tabligh event can test without fear
",
The Star
, 22 March 2020, quote from Senior Minister YB Dato' Sri Ismail Sabri Yaakob: "I have discussed (this) with the Inspector-General of Police (IGP) earlier. Even if there are migrants including Rohingya or others who do not have valid travel documents, what is important now is for them to come forward without any fear. We will not focus on their documents but rather on whether they are Covid-19 positive."