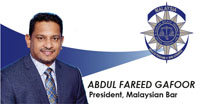 The Malaysian Bar views the recent reports of the issuance of a court order to prohibit a "gathering to discuss the implementation of a Jawi module in vernacular schools"1 as a curtailing of the freedom of expression as enshrined in the Federal Constitution.
It is understood from news reports that the Royal Malaysia Police ("Police") had applied for the court order on "security grounds"2, as a "safety precaution"3, and "with the aim of preventing any disruption to public order which could spark public anxiety"4. It is unreasonable and contrary to the Constitutional scheme that the fundamental liberty of freedom of expression is liable to be denied on such a basis.
Therefore, such a move by the Police in invoking this provision is unprecedented, and calls into question the Standard Operating Procedures ("SOPs") surrounding such an application, as we understand that there are several instances in the past where such orders have not been sought. The Malaysian Bar is of the view that the Police should not have resorted to applying for the court order but managed the situation as had been done in the past.
As we move towards further opening up our democratic space in this new decade, it is essential that fundamental liberties be guarded. There must be room for every Malaysian citizen to have legitimate discourse and to ventilate grievances in a robust Malaysia that serves its people. It is for the proper and safe facilitation of such future events, particularly pursuant to Government-invoked policies, that we look to the Executive to for further guidance.
Abdul Fareed Abdul Gafoor
President
Malaysian Bar
31 December 2019
---
1 "Groups call for protection of the right to speech", The Star Online, 29 December 2019.
2 "Racial and religious issues burden the police, says IGP", MalayMail, 28 December 2019.
3 "IGP: Court order cancelling Dong Jiao Zong gathering a safety precaution", The Star Online, 28 December 2019.
4 "Dong Jiao Zong receives court order, cancels Saturday's conference", New Straits Times, 27 December 2019.