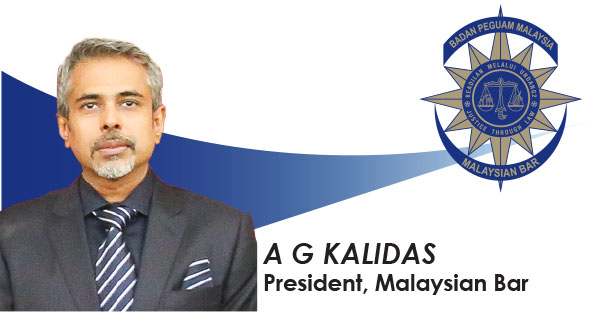 The Malaysian Bar extends its deepest sympathy to those who have been affected by the floods that have occurred over the past week. At the time of writing this press release, 37 individuals have perished, with 10 still missing1 and tens of thousands have been displaced following the recent floods, which have been described as the worst floods our country has experienced since 1971.2 There have been numerous reported incidents of motorists stranded in their cars3 and flood victims being left without any assistance.4 Many were left to fend for themselves just to survive the floods, while in many other instances, the Malaysian public themselves had to step in to help one another. These reports are distressing and disheartening, and immediate action must be taken to prevent such tragedies from reoccurring.
The Malaysian Bar urgently calls for the strengthening and democratisation of legal accountability as a long-term solution to the myriad of weaknesses and gaps in our systems of governance.
Prime Minister YAB Dato' Sri Ismail Sabri bin Yaakob had admitted to shortcomings in our country's flood management.5 The Government of Malaysia has long been aware of, and ostensibly preparing for, the risks of extreme weather and floods posed by climate change and unsustainable development. Tremendous resources have been allocated for climate change adaptation and disaster management in Malaysia for years.
In the Intended Nationally Determined Contribution submitted by the Government of Malaysia to the United Nations in 2015,6 the Government of Malaysia:
stated that during the Tenth Malaysia Plan (2011 to 2015),7 Malaysia spent RM51 billion to enhance resilience against climate change, and that a National Adaptation Plan would be developed to provide greater coordinated implementation; and
acknowledged the challenges of flood risks, noting that "in the extreme floods in 2014, damage to public infrastructure amounted to RM2.9 billion" and stated that "flood mitigation programmes and strengthening of disaster risk management and resilience of infrastructure would be further enhanced".
In the Nationally Determined Contribution submitted by the Government of Malaysia in 2021,8 it:
highlighted that in the Eleventh Malaysia Plan (2016 to 2020),9 RM7.24 billion was allocated to enhance climate-resilience and adaptation measures, and that a National Adaptation Plan is being developed "to ensure that climate change adaptation is mainstreamed into its development plan";
specifically mentioned strategies to minimise flood impacts "by incorporating climate change factors into flood risk assessment and protection projects" and improve "weather-flood forecasting and early warning system based on future climate conditions"; and
highlighted that Malaysia has ratified the Sendai Framework for Disaster Risk Reduction 2015-2030 ("SFDRR") in 201510 to reduce disaster risks and loss and damage for better management of socio-economic and environmental impacts. "Malaysia will continue the efforts to strengthen the capacity and mechanism in disaster risk management. The integration of climate change adaptation and disaster risk reduction will be given the focus in the national development plan".
In 2020, the Ministry of Environment and Water produced a "Climate Change Adaptation Framework for Water Sectors"11 which states that "climate change is now a fundamental threat in Malaysia", with floods being one of the most significant water-related disasters.
Yet the recent floods have demonstrated that as a country, we are still gravely unprepared. The devastation to the lives, homes, properties, and infrastructures caused by the floods has revealed multiple systemic failures. We may conclude that in the main:
our disaster risk management machinery did not work as expected;
our approach to development is obsolete and we may have not fully appreciated the risks of climate change and principles of sustainable development; and
members of the public are not fully engaged, involved, or empowered in most matters relating to public interest.
There is an immediate need for the formulation of comprehensive environmental legislation and a sustainable framework that offer sufficient protection to the rakyat and the environment.
The Malaysian Bar firmly believes that environmental rights, including the right for human beings to live in a safe, clean, healthy, and sustainable environment, is a fundamental right as enshrined in Article 5 of the Federal Constitution. The Government must ensure that existing environmental laws are updated and strengthened to prevent any further adverse impact to the well-being of the rakyat.
Our legal system expects anyone in public office to be held to account in the event that they fail to perform. Principle 10 of the 1992 Rio Declaration12 sets out three fundamental rights as the key pillars of sound environmental governance:
(1) access to information;
(2) access to public participation; and
(3) access to justice.
Hence, we must focus on strengthening and democratising legal accountability as a broad-based strategy. The systems, rules, and institutions involved in providing access to justice must be streamlined so that people have meaningful access to justice and are protected and supported throughout the process.
Positions of power in public office are undertakings of public responsibility; the dereliction of which will harm people and society. We need to reconnect accountability with the duties and responsibilities that come with these positions. Only through close cooperation between people and their government and with proper accountability can we come up with effective measures to ensure that we are better prepared to weather present and future challenges.
A G KALIDAS
President
Malaysian Bar
23 December 2021
---
1 "IGP: Death toll from Malaysia's floods up to 37, 10 still missing", Malay Mail, 23 December 2021.
2 "Peninsular Malaysia hit by '1-in-100-year' rainfall, govt says amid severe flooding", The Straits Times, 20 December 2021.
3 "Dozens of motorists spend night in their cars due to floods", Free Malaysia Today, 18 December 2021.
4 "Taman Sri Muda flood victims still waiting for help", New Straits Times, 19 December 2021.
5 "PM admits shortcomings in flood response, says responsibility must be shared by all", Malay Mail, 21 December 2021.
6 Intended Nationally Determined Contribution of the Government Of Malaysia, United Nations Framework Convention on Climate Change, 27 November 2015.
7 Tenth Malaysia Plan 2011-2015, Prime Minister's Office of Malaysia, 2010.
8 Malaysia's Update of Its First Nationally Determined Contribution, United Nations Framework Convention on Climate Change, July 2021.
9 Eleventh Malaysia Plan 2016-2020, Prime Minister's Office of Malaysia, 2015.
10 Sendai Framework for Disaster Risk Reduction 2015-2030, United Nations Office for Disaster Risk Reduction.
11 Climate Change Adaptation Framework for Water Sectors, National Water Research Institute of Malaysia, Ministry of Environment and Water, 2021.
12 UNEP - Principle 10 and the Bali Guideline, UN Environment Programme.