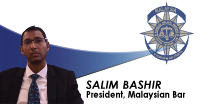 The Malaysian Bar would like to express its condolences to the families of those who were infected with the coronavirus and passed away as a result.
The Malaysian Bar commends the Government's initiatives in combating the spread of the pandemic, and in particular, the Ministry of Health's policy to extend free screening and treatment for all foreign nationals with COVID-19 symptoms and those with close contact with COVID-19 patients. The Government's call to all foreign attendees of the tabligh gathering that was held from 28 Feb to 2 Mar 2020, to volunteer themselves to be screened without the fear of being arrested, is commendable.
We urge the Government to take a proactive humanitarian stand and allow all migrants, refugees and asylum-seekers, regardless of their status, access to free screening and treatment for COVID-19 without the fear of arrest and detention. During these challenging times, it is imperative that the Government extends compassion towards migrants and refugees which represent one of the most vulnerable groups of people in the country. We do not want to see a situation where persons uncertain of their immigration status are afraid to come forward for screening or seek treatment when they become ill. Providing migrants and refugees with assurances that they need not fear arrest and detention will go a long way to encourage those who are infected and ill from coming forward.
Contagious diseases such as COVID-19 know no boundaries, nationalities or legal status. It is unfortunate that due to inadequate housing and sanitary facilities, many migrants, refugees and asylum-seekers find themselves living in crowded dwellings — the perfect breeding grounds for the virus.
The Malaysian Bar also records its gratitude to the medical front liners, law enforcement agencies and all those working in essential services for braving this pandemic and continuing to work to keep society functioning.

Salim Bashir
President
Malaysian Bar
24 March 2020