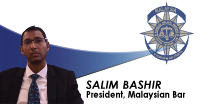 The Malaysian Bar reiterates its call on the Government to consider abolishing unjust and regressive laws during its current Dewan Rakyat sittings.
Even though the controversial Internal Security Act 1960 ("ISA") has been repealed, some unjust pieces of legislation such as Security Offences (Special Measures) Act 2012 ("SOSMA") and the Sedition Act 1948 are still in place. These laws should be repealed as they do not reflect how our society has evolved. Drug abuse under section 15 of the Dangerous Drugs Act 1952 should also be decriminalised. Despite whatever good intentions the Government might have in hopes that these laws would safeguard peace and security, it does not augur well for the country that such regressive laws are still in existence.
The Malaysian Bar has persistently taken, and will continue to take the position, that these archaic laws should be abolished entirely. As an example, SOSMA stipulates that individuals accused of security offences shall not be granted bail, and that they can be arrested and detained for up to 28 days without being brought before a magistrate, unlike the common remand period under the Criminal Procedure Code. These laws absolutely run counter to the rule of law and the basic rights afforded under the Federal Constitution.
We are of the view that there are sufficient laws and mechanisms in place, such as the Penal Code and the Criminal Procedure Code that give the Government and enforcement authorities capacious powers to combat crimes and maintain stability in our country. We must remember that judicial discretion in criminal cases cannot be ousted by legislation. The protection of our society can coexist harmoniously alongside laws that respect the due process afforded to accused individuals.
The Malaysian Bar also calls for the establishment of a Law Commission to review obsolete laws and sentencing procedures. The Bar Council is ever ready to be a part of such a commission and looks forward to working with other stakeholders to provide our input, where necessary.
Article 5 of the Federal Constitution provides that a person's life or personal liberty cannot be taken away unless it is in accordance with the law. We have always been a vocal opponent of all forms of regressive laws that do not adhere to our constitution, as well as civil rights and liberties.
The Malaysian Bar therefore renews its call to the Government to abolish outdated and draconian laws so that we may safeguard the human rights and welfare of the rakyat.
Salim Bashir
President
Malaysian Bar
4 November 2020