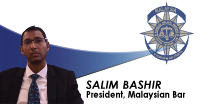 It was stated by the Honourable Minister in the Prime Minister's Department (Parliament and Law), YB Dato' Takiyuddin Hassan, in a press release on 9 October 2020 that the Government is currently in the final stages of appointing a new Director of the Asian International Arbitration Centre ("AIAC"), following the untimely passing of the former Director, Vinayak Pradhan, in March 2020.1 The Malaysian Bar commends the Government's efforts and calls for the urgent appointment of a new Director of the AIAC.
The Malaysian Bar has been concerned about the vacancy of the position of Director of the AIAC since March 2020, as the importance of this position cannot be overstated. Any further delay towards this appointment could have far-reaching consequences for parties relying on arbitration and adjudication as a means for dispute resolution. We had written to the Honourable Minister to voice our views on this matter, and our concerns are that there have been no arbitral appointments, nominations or confirmations that have taken place since March 2020. In the absence of a Director, various aspects of arbitral processes are unable to take place, such as the appointment of arbitrators, fixing of fees, and review of arbitral awards, among others.
The position of Director is absolutely imperative in ensuring the relevance of the AIAC, and in building, retaining and enhancing the trust placed in the AIAC by the domestic and international community. The purpose of the Director is to ensure that the AIAC is at the forefront as a provider of high-quality alternative dispute resolution ("ADR") services.
Due to the absence of a Director for the past nine months, adjudication referrals were not made, simply because the industry is cognisant that adjudication cannot take place without a Director. One of the key consequences of the continued absence of a Director will result in the public's disenchantment and disillusionment in the adjudication process. In light of the COVID-19 pandemic, parties cannot and should not have their ADR needs subjected to further delay. Parties who need their ADR needs handled urgently may opt out of AIAC's services and opt for other international centres, such as the Singapore International Arbitration Centre or Hong Kong International Arbitration Centre.
We hope that the Government can appoint a new candidate for the position of Director of the AIAC as soon as possible, in order to ensure that ADR services can continue smoothly, as well as rebuild Malaysia's gaining reputation as an ADR powerhouse.
Salim Bashir
President
Malaysian Bar
10 November 2020
---
1 "Status of the Appointment of the Director of the Asian International Arbitration Centre (AIAC)", AIAC website, 9 October 2020.