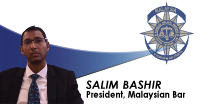 It was reported that the Temporary Measures for Reducing the Impact of Coronavirus Disease 2019 (COVID-19) Bill 2020 ( "COVID-19 Bill") was passed by the Government in the Dewan Rakyat recently in order to ensure comprehensive temporary protection for those adversely affected by the global pandemic.
The Malaysian Bar is pleased that matters pertaining to the legal impediments during the pandemic period have been raised and addressed by the Government through the COVID-19 Bill. One of the primary relief measures of the Bill is the increment of the minimum debt threshold to file a bankruptcy petition from RM50,000 to RM100,000. This increased threshold will undoubtedly reduce the number of bankruptcy proceedings taken against defaulters, and enable them to carry on servicing their debts without the unnecessary legal constraints brought about by bankruptcy in this economic climate.
With regard to the tabling of the Independent Police Conduct Commission Bill ("IPCC Bill"), we were not consulted on it; however, we are hopeful that it will be passed with close-knit provisions of the original version of the Independent Police Complaints and Misconduct Commission Bill ("IPCMC Bill"). Another aspect of our concern is that under section 30 of the IPCC, the Commission under the IPCC might be depowered in comparison with the original version of section 31 of the IPCMC that clothed the Commission with disciplinary authority.
We have worked tirelessly with various stakeholders in the past, and hope that the concerns by all parties will be addressed in the IPCC Bill. The Malaysian Bar wishes to be consulted, and will be ready to assist to provide any input necessary to ensure that a comprehensive and effective IPCC Bill is implemented.