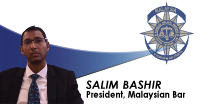 The Malaysian Bar is proud to announce that it has recently relaunched its newly revamped mobile app that includes a digital membership card ("DMC") for Members of the Bar. The mobile app is available for both iOS and Android devices, and can be downloaded from the Apple Store and from Google Play.
With the DMC, a Member can prove his/her membership status instantly. Only Members with a valid Practising Certificate will be able to access the mobile app, and thus the DMC. The DMC has a vCard QR Code that acts as a digital business card. This important feature benefits not only Members, but the public at large as it displays the legal status of every Member who is presently entitled to represent a client as an advocate and solicitor in real time. Any person who does not have a valid Practising Certificate, has been suspended, or struck off the Roll of advocates and solicitors is not allowed to access the mobile app.
This enhanced feature will help address the problem of touts and other persons who claim to be advocates and solicitors.
The Malaysian Bar hopes that the introduction of the DMC will better protect the public from such persons. We caution the public to always personally meet with lawyers that they intend to engage, and not to accept the word of any person claiming to be an agent, employee or intermediary of a law firm without proper verification.
In addition to the DMC, details of all lawyers currently holding a valid Practising Certificate (license) to practise law are also available on the public section of the Malaysian Bar website.
The Malaysian Bar is fully committed to utilise technology in order to improve our services. We trust that the DMC is a step in the right direction. We believe that innovation is necessary to ensure the interests of our Members and the public are safeguarded.

Salim Bashir
President
Malaysian Bar
9 March 2021