A special publication for Members of the Bar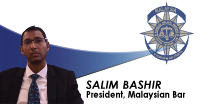 We are pleased to present the Bar Council's latest publication, Torchbearers: The Bar's Passage of Justice (1947 to 2021), a compilation of events and milestones since our establishment in 1947.
This publication highlights some of the work of the Malaysian Bar, as steered by the 31 Presidents of the Bar / Chairmen of the Bar Council since 1947.
The Bar, as a collective body, has been in existence for more than 70 years. As clearly evidenced in each chapter of the book, the Bar has been resilient, upholding the cause of justice without fear or favour, and continually striving to adapt to the evolving needs of the legal profession over the course of many decades and through many seasons — in both uplifting times and challenging times.
As we journey through 2021, we hope that this publication serves as an inspiration to all Members, and a reminder of the natural spirit of resilience that we possess — individually, as well as collectively as the Bar. It may also bring back nostalgic memories for some of you, while for others, it may serve to provide insight into the proud history and exceptional work of the Bar.
Even though the closure of certain events and achievement of significant milestones are tied to the term of a particular President / Chairman, these are only made possible because of the copious amount of time and hard work expended by our predecessors, coupled with their unstinting diligence, in paving the way for those to come. The torch is passed on, and with that, we carry on the work for which the foundation has been laid, to bring it to fruition.
Finally, what forms the heart of the Bar and is its driving force, are its Members — each and every one of you. We are supported by the indispensable contributions by Members in fulfilling the mission and aspirations of the Bar.
I hope you enjoy the read.
Salim Bashir
President (2020/2021)
Malaysian Bar
3 March 2021
Please click here to read Torchbearers: The Bar's Passage of Justice (1947 to 2021).