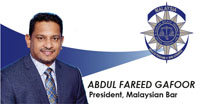 The Malaysian Bar congratulates YAA Tan Sri Dato' Sri Azahar bin Mohamed ('YAA Tan Sri Azahar') on His Lordship's appointment as the Chief Judge of Malaya on 8 August 2019.
YAA Tan Sri Azahar was appointed as a Judicial Commissioner on 1 August 2004, Judge of the High Court of Malaya on 27 July 2006, and Court of Appeal Judge on 11 May 2011. His Lordship was elevated to the Federal Court on 12 September 2014.
We look forward to working with YAA Tan Sri Azahar, and we offer him our fullest cooperation in the exercise of his duties.
The Malaysian Bar also congratulates the two Judges who were elevated to the Federal Court, namely YA Datuk Ong Lam Kiat Vernon and YA Dato' Abdul Rahman bin Sebli; the four Judges who were elevated to the Court of Appeal, namely YA Tuan Ravinthran a/l Paramaguru, YA Dato' Lee Swee Seng, YA Datuk Hajjah Azizah binti Haji Nawawi and YA Datuk Vazeer Alam bin Mydin Meera; and the seven Judicial Commissioners who were elevated to the High Court, namely YA Dato' Roslan bin Haji Abu Bakar, YA Dato' Abdul Wahab bin Mohamed, YA Dato' Hassan bin Abdul Ghani, YA Puan Chan Jit Li, YA Dato' Muhammad Jamil bin Hussin, YA Dato' Wan Ahmad Farid bin Wan Salleh and YA Dato' Khadijah binti Idris, at the same elevation ceremony.
We wish them all the very best in their new positions in the Judiciary.
Abdul Fareed Abdul Gafoor
President
Malaysian Bar
8 August 2019