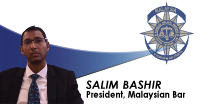 The Malaysian Bar is appalled by the recent series of "advice" published by the Ministry of Women, Family and Community Development titled "Kebahagiaan Rumahtangga".
The series, which was targeted towards women, in expressly imposing obligations or expectations on women to apply make-up, dress up, act or speak in a certain tone with their spouse, was widely circulated on social media. The series also portrayed women as being solely responsible for household chores, and also suggested that women need to be docile and patient when faced with verbal and emotional abuses.
This is wholly unacceptable. Surely it is recognised that both genders should share household responsibilities and women should not be required to feel subservient or weaker than men.
While the Ministry has since issued an apology and taken down the series, it appears that they have missed the point, stating that they apologise "… sekiranya beberapa tips yang dikongsikan tidak bersesuaian dan menyentuh sensitiviti golongan tertentu serta akan lebih berhati-hati pada masa akan datang."1 The Ministry fails to recognise that the resulting imputation of such messaging is offensive to all women, as it perpetuates that the Ministry supports such negative gender stereotypes and inequity, and robs women of their fundamental human right to live and be treated as equals in our society.
The Malaysian Bar calls on the Ministry to instead show leadership and take proactive measures to reform and protect the interests of women in our society. The Ministry should focus on promoting good ideas, and empowering women by making provisions for women, including those who may be the sole providers for their families, who are strained by being and working from home, as well as those who might not have such opportunities and are facing financial difficulties, during this trying period of the Movement Control Order.
We have seen over the past two weeks alone, that the COVID-19 pandemic is unforgiving and merciless. It must therefore follow that it is our collective responsibility, as a society, and across gender, racial and religious beliefs, to systematically combat a virulent threat like COVID-19.
Salim Bashir
President
Malaysian Bar
2 April 2020