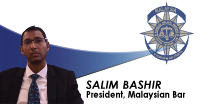 It was reported today that many lawyers are facing operational difficulties and disruptions when dealing with the Land and Mines Office (Pejabat Tanah dan Galian, "PTG") in the state of Selangor. The Malaysian Bar views with concern such difficulties faced by lawyers who have allegedly had to begin queuing at 5:00 am in order to have their requests processed by PTG Selangor.1 Selangor is currently under a Conditional Movement Control Order ("CMCO").
While the daily limit of transactions has been raised from 200 to 300 per day, the Malaysian Bar takes the view that this is still insufficient due to the fact that Selangor is one of the main economic hubs in the country. In many instances, law firms handle more than one land matter at any given time. There is a legitimate concern that there will be a severe backlog of cases that will result in inefficiency.
It is commonly understood that for land transactions, time is of the essence. While we completely comprehend that many PTG officers are working from home during these unprecedented circumstances, lawyers and the general public are entitled to receive a standard of service that is both efficient and effective, especially when it pertains to matters concerning their livelihood. Any delay will result in not only a loss in revenue for the state government, but also a loss of profits for parties to such transactions. This ultimately hampers commercial land dealings.
Lawyers should not have to bear the brunt of the blame in the event of a failed transaction due to no fault of their own, and the Malaysian Bar does not wish to see their concerns actually materialise. We are following up closely on this issue, as it affects Members in the conveyancing practice, as well as staff in law firms, in working towards ensuring a smoother process in the future.