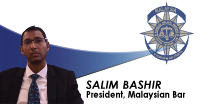 It was recently reported that the highest court of the land has rejected a challenge to an ouster clause — section 15A of the Prevention of Crime Act 1959 ("POCA") — and maintained the constitutionality of this provision that excludes the law from judicial review of the entire order made by the POCA Board. This matter is in respect of six men who were held under preventive detention for criminal allegations and ordered to be detained without trial for two years.1
The Malaysian Bar takes the view that any legislation that ousts supervisory jurisdiction of Courts runs contrary to the fundamental tenets of our Constitution and the doctrine of separation of powers, which is a cornerstone of democracy. Ouster clauses should not be used to restrict the powers of the Judiciary to act as a necessary check and balance against excesses of the Executive. There are numerous laws that oust judicial power to review executive decisions, even though they do not remotely relate to the safety and security of our country. Such legislation includes the Water Services Industry Act 2006, Witness Protection Act 2009, Strategic Trade Act 2010, Occupational Safety and Health Act 1994, and Fisheries Act 1985. Therefore, the Malaysian Bar calls for the repeal of ouster clauses entrenched in all pieces of legislation in order to ensure democracy and constitutionalism are preserved.
The doctrine of separation of powers is to ensure that each separate body will not exceed or misuse its authority. The Courts must therefore be given an opportunity to review any act or decision that poses a threat to the rule of law and good governance in our country. The Courts have an inalienable authority to identify and to uphold the constitutional rights of ordinary citizens from any Executive encroachment. The rule of law must be sacrosanct and judicial review is essential in ensuring that justice is preserved.
Salim Bashir
President
Malaysian Bar
22 February 2021