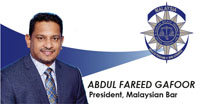 The Malaysian Bar views with grave concern, a recent online news report on an Orang Asli community in Pahang living off a landfill of toxic rubbish with their children.1
The landfill, located in Bukit Biru near Bukit Ibam in Bandar Muadzam Shah, Pahang was reported to have attracted the Orang Asli to forage in the decomposing waste. It was also reported that basic necessities such as electricity and water were sorely lacking in this Orang Asli settlement, and that the source of the water there was a stagnant pond. Even more poignant were photos showing Orang Asli children rummaging and playing at the landfill, exposing themselves to potentially hazardous materials. It is equally regrettable that this scenario continues to persist notwithstanding media reports from more than 10 years ago highlighting members of this community living off the dumpsite.2
Article 5 of the Federal Constitution provides that "no person shall be deprived of his life or personal liberty save in accordance with law". In Tan Tek Seng v Suruhanjaya Perkhidmatan Pendidikan & Anor [1996] 1 MLJ 261, the Court of Appeal held that the term "life" does not merely refer to physical existence, but includes a life with dignity and the necessities of life such as employment and the right to live in a reasonably healthy and pollution-free environment. Furthermore, the Federal and State Governments owe a fiduciary duty to the Orang Asli to protect their welfare, as stated in Kerajaan Negeri Selangor v Sagong Bin Tasi [2005] 6 MLJ 289. In this regard, the Department of Orang Asli Development ("JAKOA") is charged with the responsibility to ensure the protection, well-being and advancement of the Orang Asli.
Once again, the predicament of this Orang Asli community can be partly attributed to the refusal of the Federal and State Governments to recognise the rights of the Orang Asli to live on and off their ancestral lands, and to provide all Orang Asli communities with basic infrastructure like water and electricity. Given the special position of the Orang Asli under the Federal Constitution, the continued failure of the Federal and State Governments to protect and provide for marginalised Orang Asli can only be described as deplorable.
Accordingly, the Malaysian Bar reiterates its call upon the Federal and State Governments to address the numerous issues faced by the Orang Asli comprehensively, including working together in consultation with local Orang Asli communities and Orang Asli NGOs to legally recognise Orang Asli customary areas and provide proper infrastructure facilities to uplift the well-being of the Orang Asli community.
Abdul Fareed Abdul Gafoor
President
Malaysian Bar
20 February 2020

---
1 "Forgotten, Orang Asli in a Pahang town live off a landfill of toxic garbage", Malay Mail Online, 14 February 2020.
2 "Lawatan ke Perkampongan Orang Asal di Rompin, Pahang", Suhaimi Said,The Spirit of Lubok Kawah/Semangat Lubok Kawah, 14 August 2009.