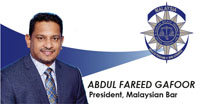 The Malaysian Bar welcomes the recent appointments of 13 Judicial Commissioners.
We note that out of the 13, nine are from the Bar -- from West Malaysia, and Sabah and Sarawak. In this regard, the Malaysian Bar wishes to commend the Judicial Appointments Commission for taking into consideration consistent calls from the Bar to appoint more Members of the Bar to Judicial office.
Their appointments will augur well and enrich the Judiciary as they bring with them a wealth of knowledge and experience in wide areas of the law.
YAA Tan Sri Dato' Seri Utama Tengku Maimun binti Tuan Mat, Chief Justice of the Federal Court of Malaysia ("Chief Justice"), in speaking at the appointment ceremony, is reported to have said that "The chief justice, Court of Appeal president, chief judges (CJ) of Malaya and, Sabah and Sarawak are not your bosses, like in an agency or department, who give directives."1
We welcome the statement by the Chief Justice, and trust that she will make the required changes to nurture such a climate and give effect to such a mandate. It is vital that proper and comprehensive complaints and disciplinary mechanisms are put in place to encourage judicial accountability.
In order for judges to heed and embrace the call of the Chief Justice, there must be a fostering of a fertile space for judges to feel free to express and participate in the judicial system, guided solely by the rule of law and the administration of justice.
Abdul Fareed Abdul Gafoor
President
Malaysian Bar
29 November 2019