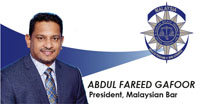 The Malaysian Bar welcomes the amendments to the Industrial Relations Act 1967. The amendments, which take the form of the Industrial Relations (Amendment) Bill 2019, was tabled in the Dewan Rakyat on 7 October 2019 and passed on 9 October 2019. The Bill is set to be tabled in the Dewan Negara.
Leading up to the tabling of the Bill, the Bar Council through its Industrial and Employment Law Committee, have had many consultations with the Honourable Minister of Human Resources, YB M Kula Segaran, and officials of the Ministry over the past one year, whereby the Bar Council's views were consistently sought on the proposed amendments.
Having perused the proposed amendments, the Bar Council is pleased to note that several proposals by the Bar Council have been adopted by the Ministry which the Bar Council views as progressive. These proposals which the Bar Council views favourably are as follows:
(1) Direct reference of unfair dismissal presentations to the Industrial Court by the Director General where the matter is not settled;

(2) The Industrial Court is allowed to continue its proceedings notwithstanding the death of a workman;

(3) All awards of the Industrial Court for the payment of money shall carry interest;

(4) The replacement of a cumbersome judicial review process with a direct appeal to the High Court against awards;

(5) The removal of a maximum cap of 24 months' backwages on dismissals premised on union–busting activities; and

(6) The increase in fines and penalties for non–compliance with Industrial Court awards.
The Malaysian Bar therefore stands by the amendments, and views the passage of the amendments through the Dewan Negara as a positive development.
Abdul Fareed Abdul Gafoor
President
Malaysian Bar
29 October 2019