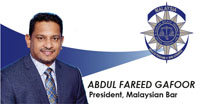 The Malaysian Bar congratulates YAA Dato' Rohana binti Yusuf on Her Ladyship's appointment as the President of the Court of Appeal.
YAA Dato' Rohana is known to be fair-minded and knowledgeable and a Judge with a good judicial temperament. Her appointment as President of the Court of Appeal -- a first for a female judge -- is most welcomed.
We also welcome the three newly-appointed Federal Court Judges -- namely YA Puan Sri Dato' Zaleha binti Yusof, YA Dato' Zabariah binti Mohd Yusof and YA Datuk Hasnah binti Dato' Mohammed Hashim.
We are pleased to note that women now make up 4 out of 9 Federal Court judges. Achieving this level of gender diversity at the highest level of the Judiciary is a positive move and to be commended.
The Bar also wishes to welcome the newly appointed Court of Appeal Judges, namely YA Dato' Hadhariah binti Syed Ismail, YA Tuan Nantha Balan ES Moorthy and YA Dato' Abu Bakar bin Jais; and High Court Judges YA Dato' Sri Tun Abd Majid bin Dato' Haji Tun Hamzah and YA Dato' Azmi bin Abdullah.
We wish all the newly-appointed Judges a productive and fruitful tenure in their respective positions.
Abdul Fareed Abdul Gafoor
President
Malaysian Bar
5 December 2019