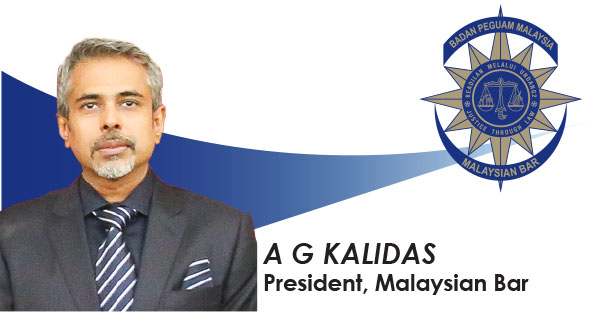 The Malaysian Bar extends its congratulations to the five High Court Judges who were recently elevated to the Court of Appeal: YA Dato' Haji Ghazali bin Haji Cha, YA Dato' Ahmad Zaidi bin Ibrahim, YA Dato' Sri Mariana binti Haji Yahya, YA Datuk See Mee Chun and YA Dato' Hashim bin Hamzah. We also congratulate the nine recently appointed Judicial Commissioners: YA Puan Amelati Parnell, YA Puan Norliza binti Othman, YA Tuan Hasbullah bin Adam, YA Dato' Sri Shamsulbahri bin Haji Ibrahim, YA Tuan Roslan bin Mat Noor, YA Puan Julia binti Ibrahim, YA Dato' Mohd Arief Emran bin Arifin, YA Dr John Lee Kien How @ Mohd Johan Lee and YA Puan Adlin binti Abdul Majid.
We also wish to commend the Chief Justice of Malaysia, YAA Tun Tengku Maimun binti Tuan Mat, on her remarks delivered for the induction programme of the newly appointed Judicial Commissioners. Her Ladyship's message of judicial independence and impartiality is both invigorating and heartening in these times of precarity. The doctrine of separation of powers is a cardinal requirement for a well-oiled democracy. Our nation has not been spared from incursions thereto. We are hopeful that the Chief Justice's message induces an institutional tabula rasa where necessary, and a reinforcement of our system of governmental checks and balances.
The Malaysian Bar records its appreciation for the Judiciary's willingness to work with us on matters of mutual concern, and we hope that this collegial relationship will flourish for the well-being of our country and its citizenry. We are very pleased with these appointments and also hope that more Members of the Bar will be considered for the Judiciary in the future, as there are many highly-capable individuals in our midst. We wish the appointees the very best in their new positions, and are confident that they will contribute their utmost to serve the Judiciary and the administration of justice.
A G KALIDAS
President
Malaysian Bar
3 April 2021