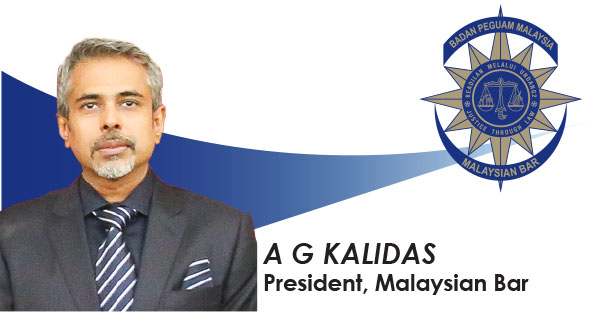 The Malaysian Bar refers to the recent news that the Attorney General's Chambers has reportedly withdrawn its appeal against the Court of Appeal's decision to acquit former Federal Territories Minister, YB Datuk Seri Tengku Adnan Tengku Mansor ("Tengku Adnan") in a RM2 million corruption case.1
In December 2020, the Kuala Lumpur High Court convicted Tengku Adnan of accepting a RM2 million bribe during his capacity as the Federal Territories Minister. The Court of Appeal then quashed the conviction in a 2-1 majority decision,2 and the prosecution had filed an appeal to the Federal Court against the acquittal in July 2021.3
We are therefore perturbed by the Attorney General's Chambers' purported decision to withdraw the appeal, taking into consideration the fact that the Court of Appeal's decision was not unanimous.
The Attorney General is the principal legal adviser to the Government and is also the Public Prosecutor. The power granted by the Federal Constitution to institute any proceedings for an offence is exercisable at his discretion. It is our view that the reasons behind withdrawing an appeal in such a high-profile case must be revealed to demonstrate accountability to the rakyat. Tengku Adnan currently serves as the Member of Parliament ("MP") for Putrajaya — a position where he is elected to represent the interests of members of his constituency. Surely as a matter of good governance, questions regarding the integrity of such a public figure must be answered in a transparent manner, and not be left ignored. At the time of writing, the Attorney General's Chambers has yet to provide any statement for its decision.
It is axiomatic that the Attorney General must answer for the exercise of the constitutional power that he holds and the discretion to discontinue prosecutions, because these powers are exercised on behalf of the rakyat and for the rakyat. The wide-ranging discretionary powers held by the Attorney General in his capacity as the Public Prosecutor must be weighed comprehensively against the rule of law and the administration of justice. Any suggestion that a public figure is able to use his/her influence to buy himself/herself out of accountability must be avoided at all costs.
The position of the Attorney General's Chambers as a bastion of justice and a guardian of public interest must be fiercely guarded. The Malaysian Bar therefore emphasises the need for the Attorney General to give a detailed explanation behind the withdrawal of the appeal.
A G KALIDAS
President
Malaysian Bar
19 November 2021
---
1 "MPs, lawyers question AG Chambers' decision to withdraw appeal against Ku Nan's acquittal in RM2m graft case", The Edge Markets, 18 November 2021.
2 "Court of Appeal acquits Ku Nan of RM2 mil graft charge", The Edge Markets, 16 July 2021.
3 "Prosecution appeals against Tengku Adnan's acquittal in RM2m corruption case", Malay Mail, 19 July 2021.