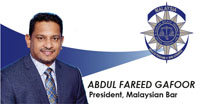 In her finding of facts, Coroner Rofiah Mohamad announced that fireman Muhammad Adib Mohd Kassim's death due to injuries sustained during a riot in Subang Jaya last year, was the result of a crime caused by assault from unknown assailants.
Following the verdict, Inspector General of Police, Tan Sri Abdul Hamid Bador had reportedly said that the police will reinvestigate the death of Muhammad Adib.
It is pertinent that the police be given enough latitude and space to conduct their investigation professionally in accordance with the country's laws, to ensure that those who are responsible for the death of Muhammad Adib will face justice.
Only upon the police concluding their investigations, can the investigation papers be sent to the Attorney General for his consideration.
It is to be reminded that the verdict of an inquest, unlike a criminal conviction, does not impute any liability against anyone. It is merely an exercise for the finding of facts, in determining how a deceased would have come upon his/her death; the cause of death; and if there were any criminal elements in it. Any verdict that touches on the involvement of "crime" can only be acted upon based on concluded police investigations.
The Malaysian Bar calls on the police to conduct a more thorough and rigorous reinvestigation, with no stone left unturned, to identify and bring the perpetrators to justice. The death of a public servant in the course of his/her duty as a result of crime should not be in vain. The Malaysian Bar also calls upon the general public to exercise restraint and allow the police to conduct a fair investigation.
Abdul Fareed Abdul Gafoor
President
Malaysian Bar
30 September 2019