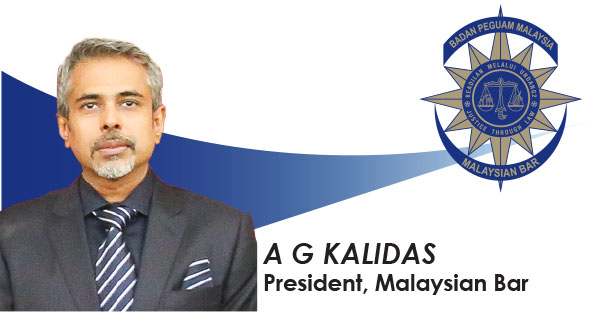 The Malaysian Bar has always been a firm proponent of gender equality and has consistently spoken out against any form of sexual harassment. We have previously called for the enactment of a Gender Equality Act and advocated a review and audit of existing laws to address issues of gender discrimination and the need for a new legislation to specifically address sexual harassment.
The Malaysian Bar believes that everyone of us is entitled to work in a safe and supportive workplace; a place where he/she can deliver to his/her fullest potential and be treated with dignity and respect, irrespective of our gender. While sexual harassment at the workplace has been unlawful for decades, many of us — primarily women — still feel incapacitated at the perceived inaction by the powers that be in protecting us from this menace. So much so that the survivors themselves have to take their own initiatives in order to highlight their experiences, culminating in the creation of movements such as #MeToo, which demonstrate the pervasiveness of sexual harassment in our culture and society.
Being sexually harassed is deeply debilitating for the survivors and becomes a major obstacle to a productive workplace and the ability of the affected individual to function to the best of his/her abilities. And indeed it is equally our responsibility at the Malaysian Bar to promote a safe and conducive environment in the legal profession, free from any form of discriminatory, indecent and untoward behaviour.
In furtherance to this objective, the Malaysian Bar is proud to announce the launch of the "Peer Support Network" ("PSN") starting today. Focusing on the welfare of the survivors, PSN sets in place the framework to deal with matters concerning sexual harassment for Members of the Bar and pupils in chambers. Designated officers and appointed Case Handlers would assist survivors by providing the necessary guidance, advice, and support. We also hope to expand our previous collaboration with the Board of Counsellors (Malaysia) in providing access to psychological help and support for these survivors.
The Bar Council had also at its meeting on 11 December 2021 approved the new Ruling 14.29 under Chapter 14 entitled "Professional Practice". Under this new ruling, any act of sexual harassment by an advocate and solicitor or a pupil in a professional capacity or a professional setting amounts to a misconduct under section 94(3) of the Legal Profession Act 1976.
The Malaysian Bar is firm in our stand that we will not tolerate sexual harassment in the legal profession, and that we are committed to taking measures to facilitate a safe and conducive environment in the legal community. We believe that the launch of PSN and the implementation of Ruling 14.29 represent a step in the right direction towards addressing sexual harassment in the legal profession. Nevertheless, we recognise that there is still much work to be done in changing any deep-rooted and existing mindset towards the issue of sexual harassment. Thus, it is also crucial to cultivate a culture of awareness on these matters among Members of the Bar so that the survivors will not suffer in silence.
A G KALIDAS
President
Malaysian Bar
15 December 2021