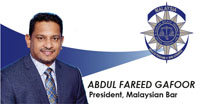 The Malaysian Bar is concerned to read of a news report stating that the media was barred from covering a trial involving a policeman accused of falsifying documents in a drug case.1 It was reported that those unrelated to the case were instructed to leave the court room upon the request by the Deputy Public Prosecutor ("DPP"), on grounds that "the charges that were to be read against the officer were sensitive and should not be reported by the media."
General rules of procedure that dictate the conduct of a criminal trial are provided for in the Criminal Procedure Code ("CPC"), which in section 7, provides that "The place in which any criminal Court is held for the purpose of inquiring into or trying any offence shall be deemed an open and public Court to which the public generally may have access." The circumstances in which this rule is departed from are provided for in various legislation, and rely on the exercise of the discretion of the court to decide on whether or not the facts of the case justify the conduct of proceedings "in camera".
The Malaysian Bar recognises that this discretion exists in the interest of justice, public safety, and national security, or for the protection of vulnerable classes of persons, or sensitive information. Exceptions that include those mentioned above should not be abused on feeble grounds, such as sensitivity of a particular charge, as advanced by the DPP in this case. The DPP, in executing the powers of the Public Prosecutor, plays a crucial role in balancing the freedom of the press, protecting the natural right of the public to know, as well as upholding the law.
The rule of law demands equality in the dispensation of justice, and one should abide by this process of law, regardless of his/her position or stature in life. Serving the public interest should always be paramount.
The Malaysian Bar therefore, calls for a more judicious exercise of this discretion, and a further bolstering of the law and its application in this area.
Abdul Fareed Abdul Gafoor
President
Malaysian Bar
3 February 2020

---
1 "Judge bars media from covering trial of cop accused of extortion", Free Malaysia Today, 29 January 2020.