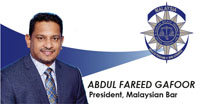 The Malaysian Bar is heartened to note that the Attorney General has, in his capacity as Public Prosecutor, decided against pursuing an appeal of the case concerning the availability of bail for unbailable offences.
1
The constitutionality of section 13 of the Security Offences (Special Measures) Act 2012 ("SOSMA") which absolutely excludes bail for the various security offences contained in the Penal Code, had been challenged in the wake of the arrest and detention of 12 individuals with alleged links to the Liberation Tigers of Tamil Eelam ("LTTE").
As reported several weeks ago, the High Court in that case had decided that the provision was unconstitutional as it violated the "the basic structure of the Constitution" -- a doctrine that propagates the separation of powers and the vesting of judicial power in the Courts, as well as the fundamental liberties entrenched in the Federal Constitution.
The consequence of this decision by the Attorney General is manifold. Firstly, accused persons who have been arrested and detained under SOSMA may now apply for bail and have such an application ventilated and decided in a court of law. The decision of whether or not bail should be granted will ultimately rest on the sitting Judge to decide, based on the evidence before him/her. Secondly, an accused person will have the right to be heard, even before he/she is formally charged with an offence, and/or pending appeal. This form of check and balance between the might of the Executive and rights of the accused is absolutely necessary in our criminal justice system which presumes that an accused is innocent until proven guilty.
Pending the repeal and/or amendments of these laws, the Malaysian Bar looks forward to such reformist efforts by the Government to remedy the stripping of the doctrines, duties and rights contained in the Federal Constitution.
The Malaysian Bar therefore, views this decision by the Attorney General as a giant leap for the rights of accused persons and in our quest for legal and institutional reforms.
The Malaysian Bar nevertheless persists in its call for the urgent repeal of SOSMA.
Abdul Fareed Abdul Gafoor
President
Malaysian Bar
16 December 2019
---