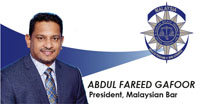 The Malaysian Bar welcomes the statement by the Minister in the Prime Minister's Department in charge of law and parliamentary affairs, YB Datuk Liew Vui Keong, that the Cabinet has approved the setting up of a Law Commission.
1
It is the position of the Malaysian Bar that a Law Commission be established by way of an act of Parliament with clear objects and powers, including promoting well–researched and consultative laws, with the aim of enhancing the rule of law, which in turn will foster public trust and confidence.
Law reform involves the improvement and development of substantive law through drafting of new laws or amendments to existing laws. As it stands, the process by which a law develops from ideation to tabling in Parliament is unclear. It is unclear how legislation which impede fundamental liberties such as the Prevention of Crime Act 1959, Security Offences (Special Measures) Act 2012, National Security Council Act 2016, Prevention of Terrorism Act 2015, and Anti–Fake News Act 2018, among others, are able to pass through the various processes of legislative drafting – only to be ultimately tabled in Parliament, where such laws are then rushed through.
The mode and manner in which such laws are brought into existence is cause for distrust. Law–making must never be done in haste, and must not be at the whims and fancies of politicians and law–makers. There must always be enough opportunity for verifying and testing of legislation for quality and resilience. Effecting genuine reforms and strengthening the rule of law require considerable time and effort as it must take into account the ever–evolving needs of the community and country.
To this end, the Malaysian Bar had submitted its position and proposed legislative text to the Institutional Reforms Committee on 7 June 2018, and stands ever ready to assist the Government in achieving this goal.
Abdul Fareed Abdul Gafoor
President
Malaysian Bar
11 November 2019
---