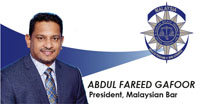 The Malaysian Bar welcomes the statement by the Minister of Health, YB Datuk Seri Dr Dzulkefly Ahmad that Malaysia will begin decriminalising drug use "towards achieving a rational drug policy that puts science and public health before punishment and incarceration", and the statement by the Minister of Home Affairs, YB Tan Sri Dato' Hj Muhyiddin Hj Mohd Yassin ("Tan Sri Muhyiddin") that drug addicts are no longer regarded as criminals to be punished, but instead as patients in need of treatment and rehabilitation.
We welcome Tan Sri Muhyiddin's proposal to delete sections 6, 8 and 9 of the Drug Dependants (Treatment and Rehabilitation) Act 1983, so that persons who are drug dependants are no longer registered under the Registration of Criminals and Undesirable Persons Act 1969.
As members of the legal profession, particularly for our Members who work in criminal law, we see the human face of persons who are caught in Malaysia's criminal justice system and subsequently incarcerated by Malaysia's hard–line and punitive policy of drug prohibition. We bear witness to the legal and personal consequences that they and their families face, especially so in the case of persons with addictions. The effectiveness of the hard–line prohibitionist approach is questionable. The incarceration of persons with addiction to illicit drugs — often in detention centres that are overcrowded and in deplorable conditions — does little to help them "get clean" but often exposes them and their families to additional risks of harm.
Based on available research findings on drug policy in other jurisdictions, it is the Malaysian Bar's view that drug law reform in the form of the decriminalisation of illicit drug use — in favour of a more progressive harm reduction approach — is a prudent and progressive step for the Government to take in its drug policy.
The decriminalisation of illicit drug use has the potential to reduce levels of drug–related harm, increase the number of drug–dependent users seeking treatment, and enable the implementation of effective demand reduction strategies. Treatment of addiction can be made more accessible, less harmful patterns of use can be encouraged, the risk of mortality can be alleviated, incidents of drug–related crime can be reduced, stigma and discrimination can be eased, total social costs to society can be lowered, and the activities of drug–related criminal networks can be disincentivised.
The Malaysian Bar supports the Government's efforts to establish a comprehensive public health–oriented approach to drug policy that is evidence–based and guided by expert advice. The Government's decision to decriminalise illicit drug use is not a refutation of the harm caused by illicit drug use, but a recognition that illicit drug use is not purely a law enforcement or security problem, but more essentially, a public health and social issue that must be addressed in a holistic manner in the best interest of our nation.
Abdul Fareed Abdul Gafoor
President
Malaysian Bar
8 July 2019