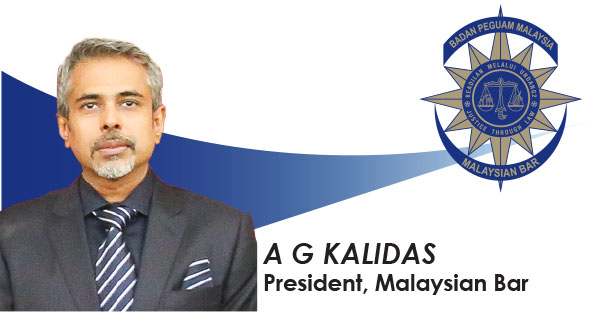 The Malaysian Bar is disheartened by the investigations by the Royal Malaysia Police ("PDRM") against #Lawan protesters for allegedly breaching standard operating procedures under the Prevention and Control of Infectious Diseases Act 1988 (Act 342). According to PDRM, assemblies or gatherings are prohibited under Act 342.1 It has also been reported that the police had arrested Sarah Irdina Mohammad Ariff, a 20-year-old activist pursuant to section 4(1) of the Sedition Act 1948,2 and questioned three other activists — Tharma Pillai, Afiq Adib and Muhammad Alshatri under section 505(b) of the Penal Code and section 233(1) of the Communications and Multimedia Act 1998 ("CMA").3

The freedom of speech, assembly and association is enshrined in Article 10 of our Federal Constitution. Such rights are internationally recognised, as evidenced in Article 20(1) of the Universal Declaration of Human Rights ("UDHR").4 These fundamental liberties are a necessary component to ensure that citizens have the right to hold their governments accountable for their actions.

While the Malaysian Bar fully recognises that public health and safety must be prioritised during these times, we nevertheless subscribe to the opinion that open dialogue and communication must not be stifled. Constitutional rights under Article 10 should not be sacrificed during a pandemic as long as adequate public health measures are employed. Citizens must be permitted to express their dissent, as the capacity to voice dissent is a hallmark of a functioning democracy. The police should have facilitated the crowd's compliance with safety measures in accordance with the Peaceful Assembly Act 2012, instead of being seen to muzzle the crowd's right to assemble peacefully.

The investigation of #Lawan protesters, as well as the arrest of activists, may create a perception of intolerance by authorities towards any criticism of the Government. Such inflexible actions only serve to inflame public dissatisfaction and call into question the behaviour of the authorities. We have always stood by the view that the Sedition Act 1948 is a draconian and oppressive piece of legislation that has no place in a modern and civilised society. Section 233(1) of the CMA should not be used to undermine and restrict freedom of speech to create a climate of fear among those who merely seek to exercise their constitutional rights.
The Malaysian Bar implores PDRM to exercise restraint in the treatment of activists and protesters. We fully support the right of any individual or group to exercise their rights, as long as this is done peaceably and responsibly. Anything less will give rise to the perception that our country is regressing. Civil rights and liberties must be upheld, irrespective of whether we are in a pandemic.

A G KALIDAS
President
Malaysian Bar
2 August 2021
---
1 "Police identify 29 at '#Lawan' gathering", New Straits Times, 1 Aug 2021.
2 "#Lawan: Youth activist released at 1am, after 10-hour grilling for sedition", Malaysiakini, 30 July 2021.
3 "#Lawan activist nabbed under Sedition Act, as three others questioned by cops", Malay Mail, 29 July 2021.
4 Universal Declaration of Human Rights, United Nations.