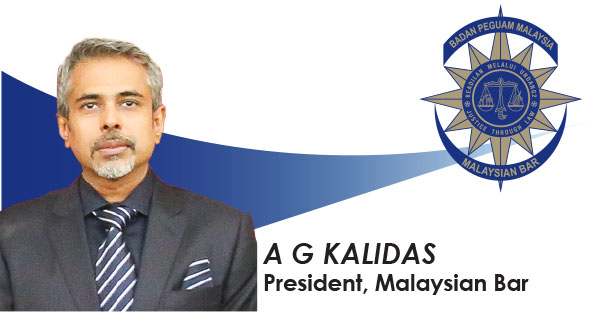 The Malaysian Bar on this day, 10 December 2021, commemorates the 73rd anniversary of the adoption by the United Nations General Assembly of the Universal Declaration of Human Rights ("UDHR") in 1948.1 The theme of this year's Human Rights Day is "EQUALITY — Reducing inequalities, advancing human rights." This year's theme is a reflection of Article 1 of the UDHR — "All human beings are born free and equal in dignity and rights".2 Equality is also enshrined in our Federal Constitution as encapsulated in Article 8. Yet much more can and needs to be done to eliminate inequality.
Malaysia's recent election to the United Nations Human Rights Council ("UNHRC") presents us with the opportunity to approach human rights at home with a fresh slate. The Malaysian Bar has previously emphasised the need for political will to carry out the necessary reforms to ensure that human rights are protected and defended,3 and we reiterate such calls today.
Over the past two years, the COVID-19 pandemic has exacerbated and expanded the already-existing inequalities and vulnerabilities faced by the different groups and communities in our country. We believe that societies that ensure human rights protection for everyone, irrespective of their nationality or ethnicity, are more well-equipped to surmount unforeseen crises and to build back not only better, but stronger. There are still many ways in which we can improve our track record of human rights.
In February this year, the Government deported migrants back to Myanmar on navy ships supplied by the Myanmar military, just after that country had undergone a coup.4 At the height of the pandemic, raids were conducted to crack down on migrants to curb the spread of the virus. Such actions were wholly unnecessary and did nothing to protect this vulnerable group during such dire circumstances.5 In fact, it may have exposed them to greater risk of catching COVID-19 due to its spread in detention centres and prisons.
We had been eagerly looking forward to the establishment of the Independent Police Complaints and Misconduct Commission ("IPCMC") — an independent commission to receive and investigate complaints about police misconduct. Instead, we have been offered a diluted version of the same known as the Independent Police Conduct Commission Bill ("IPCC Bill")6 — a bill that is devoid of any substantial or meaningful oversight mechanism since it lacks the authority and scope that the IPCMC was intended to have to promote genuine police accountability. In the meantime, cases of deaths in police custody continue to occur.7
There is a need for greater respect for our constitutional freedoms as well. There have been many instances where freedom of speech and assembly have not been championed — we have seen activists,8 journalists,9 artists,10 and even Members of Parliament11 being investigated by the police for alleged breaches of the law on public assemblies and public protests, undertaking investigative journalism, making fair public comments, and even creating a satirical Spotify playlist. Such actions have given rise to self-censorship and a climate of fear pervading our society.
Despite this being the third time that Malaysia has been elected to the UNHRC,12 Malaysia has so far only ratified three human rights treaties — the Convention on the Rights of the Child ("CRC"), Convention on the Elimination of All Forms of Discrimination against Women ("CEDAW"), and the Convention on the Rights of Persons with Disabilities ("CRPD"),13 and all with reservations of one form or another. Having won a seat on the UNHRC for 2022–24, we must, as a nation, hold ourselves to a higher standard. The Malaysian Bar hopes that Malaysia would finally be able to ratify the other core human rights treaties during the upcoming UNHRC term, and to withdraw all remaining reservations. Malaysia has been given an opportunity to lead by example through its election to the UNHRC. This serves as a timely reminder to the Government that it must uphold the rule of law and respect the rights and dignity of every individual, in accordance with international norms and standards, and not merely domestic ones.
We laud the Government's assistance to Afghanistan, which has been ravaged by the recent unrest and violence. The Government had pledged USD100,000 to the United Nations to provide humanitarian assistance as well as to support the reconstruction and rebuilding of Afghanistan.14 However, the Malaysian Bar had recently communicated with the Government on the importance of safeguarding the rights of the citizens of Afghanistan — especially the rights and safety of women and children — and including lawyers (Afghanistan International Bar Association), and hopes that Malaysia will be able to leverage its position on the UNHRC to alleviate the human rights deficit and humanitarian crisis in that country.
On this Human Rights Day 2021, we need to look at fresh ways to address the human rights challenges, both at home and abroad, and to remedy the many violations that daily take place. The Malaysian Bar is ready to work closely with all stakeholders and the Government to provide any assistance towards the realisation of this objective.
The COVID-19 pandemic has thrown into sharp relief the gap between aspirations and reality. We must work harder as a nation to mainstream and materialise the human rights ideals that we espouse in our own country, and to encourage others to do the same on the international stage. At the core of this effort is the need to end discrimination on all grounds, and to end inequalities in all aspects of life. On this day, let us recommit ourselves to work together to make those aspirations a reality.
A G KALIDAS
President
Malaysian Bar
10 December 2021
---
1 Universal Declaration of Human Rights, United Nations.
2 Human Rights Day, United Nations.
3 "Press Release | Malaysia's Election to the United Nations Human Rights Council: Strengthening Human Rights Protection Abroad and at Home", Malaysian Bar, 20 October 2021.
4 "Malaysia deports Myanmar nationals despite court order", BBC News, 24 February 2021.
5 "'We need to correct the situation' - Hamzah says migrant raids to continue", Malaysiakini, 11 June 2021.
6 "Strengthen IPCC Bill with greater investigative powers, says Maria Chin", Free Malaysia Today, 12 October 2021.
7 "Report: Ganapathy's family lawyer says autopsy report confirms death due to shoulder and leg injuries", Malay Mail, 30 April 2021.
8 "#Lawan activist nabbed under Sedition Act, as three others questioned by cops", Malay Mail, 29 July 2021.
9 "Al Jazeera staff grilled in Malaysia over report on migrant arrests", The Star, 10 July 2021.
10 "Cops: Fahmi arrested for jealousy-themed Spotify playlist", Malaysiakini, 24 Apr 2021.
11 "Malaysia deploys riot police as MPs attempt march to parliament", Al Jazeera, 2 August 2021.
12 "UN Malaysia congratulates govt for third time election to Human Rights Council", The Star, 15 October 2021.
13 UN Treaty Body Database, United Nations Human Rights Treaty Bodies.
14 "Malaysia supports Afghan led, owned and controlled lasting solution", New Straits Times, 14 September 2021.