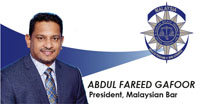 The Malaysian Bar is disturbed by reports of a violent incident at the Kuala Lumpur High Court parking area on 13 February 2020.1

According to media reports, a sword was thrown at a lawyer by an unknown assailant on a motorcycle at the parking area. Another lawyer was kicked by the same assailant while walking towards the Court Complex.
A police report has been lodged, and investigations are ongoing under section 506 of the Penal Code for criminal intimidation.
In January this year, there were also reports where a member of the public was assaulted at the Klang High Court parking area.
The Malaysian Bar condemns all and such violent acts against lawyers and members of the public. We urge the police to look into the matter expeditiously and to review and strengthen current security measures in and around the courts, including the possibility of according additional protection for lawyers and the members of the public attending court.
Abdul Fareed Abdul Gafoor
President
Malaysian Bar
14 February 2020
---
1 "Sword flung at lawyer's car at Jalan Duta court complex, cops investigating", The Star Online, 13 February 2020; "Lawyer has samurai sword thrown at him by motorcyclist", The Sun, 13 February 2020.