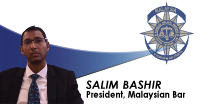 The Malaysian Bar welcomes the courageous decision of the Federal Court to allow a former property agent, Koh Chin Wah, to be released on bail pending the outcome of his charge for a security offence.1
This landmark ruling of the highest court of the land is deemed to bring finality and a definitive end to the question of constitutionality of section 13 of the Security Offences (Special Measures) Act 2012 ("SOSMA"), in relation to the rights of an accused person to be granted bail. The three-person Federal Court bench had decided to instead utilise section 388 of the Criminal Procedure Code to permit bail for Koh Chin Wah.
The judgment clarifies the inherent judicial power of the Courts and restores independence of the Judiciary that acts as a gatekeeper against any encroachment of human rights and the rule of law. This decision carries the same impact as that of the Semenyih Jaya case which effectively restored judicial power in land acquisition cases. The case had revisited Article 121(1) of the Federal Constitution and declared that Article 121 empowers the High Court with judicial power when it comes to the determination of compensation for land acquisition matters. Similarly in the current case of Koh Chin Wah, the Federal Court has reaffirmed the doctrine of judicial independence and the separation of powers in our country — all the hallmarks that are necessary in a democratic system of governance.
We are of the view that section 13 of SOSMA is repugnant to the rule of law and natural justice, and believe that no one should be incarcerated until his guilt is proven in a court of law. It is also incompatible with Article 121 of the Federal Constitution. The Malaysian Bar renews its calls to the Government to abolish SOSMA as well as other outdated and draconian laws so that we can safeguard the welfare of the rakyat.
---