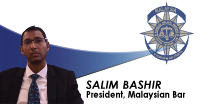 The Malaysian Bar wishes the heartiest congratulations to YBhg Tan Sri Datuk Suriyadi bin Halim Omar, YBhg Datuk Dr Prasad Sandosham Abraham, YBhg Datuk Stephen Chung Hian Guan and YBhg Dato' Associate Professor Dr Johan Shamsuddin bin Hj Sabaruddin on their appointments as members of the Judicial Appointments Commission ("JAC") on 4 September 2020.1
The Malaysian Bar welcomes the appointments and looks forward to having more judicial candidates who possess sharp legal acumen, strong integrity, objectivity, expertise and temperament, among other judicial traits, being appointed to the Judiciary. The Malaysian Bar also hopes that more Members of the Bar will be considered for appointment to the Judiciary in the future.
The JAC must be an institution that is entirely independent and unimpeachable in upholding the integrity of the Malaysian Judiciary. Meticulous, stringent, and impartial selection of judicial candidates are absolutely crucial in order to safeguard the independence of the Judiciary.
The Bar Council is ready to be consulted and is willing to provide any assistance necessary to the JAC to review and recommend programmes to improve and uphold the administration of justice in Malaysia.
We wish the newly appointed candidates the very best in their new positions and are confident that they will contribute their utmost to serve the Judiciary and the administration of justice, and the nation. We would also like to express our gratitude to the previous commissioners for their service, dedication, and hard work.
Salim Bashir
President
Malaysian Bar
5 September 2020