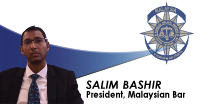 Today — 21 September 2020 – marks the 75th anniversary of the United Nations ("UN"), which is also the International Day of Peace. The UN General Assembly has declared this as a day devoted to strengthening the ideals of peace, by observing 24 hours of non-violence and ceasefire. Born out of the devastation of the Second World War, the UN was established to, among other reasons, ensure international peace and security and to mitigate conflicts.
This year, world leaders will mark the UN's 75th anniversary virtually due to the invisible enemy of COVID-19. The mood is a sombre one, where we are all forcibly reminded of the adverse political, economic and social impacts brought about by the pandemic. The pandemic has proven itself to be the biggest global challenge faced in a generation, and has reminded us of the severe pressure placed on our societies. The onslaught of the pandemic does not however, detract the UN from staying true to its core mission. This is demonstrated in the 2020 theme — "Shaping Peace Together".
UN Secretary-General, António Guterres, has called for a global ceasefire and to put aside arms amidst these troubling times. However, it is imperative to note that putting aside arms for one day will not put an end to violence and terror. There are many countries and regions including Yemen, Myanmar, Kashmir, Palestine and Syria that are plagued by armed conflicts against a backdrop of a global pandemic, which must be urgently resolved. Issues such as arms control, non-proliferation treaties and disarmament agreements must be adhered to and upheld. Only through compassion, cooperation and coordination can we rise to the occasion of overcoming these challenges together, and to form a foundation for a better future ahead.
The Malaysian Bar reaffirms our commitment to the rule of law, both internationally and domestically. We also reiterate our advocacy for Malaysia's accession to core international human rights treaties and optional protocols.
Salim Bashir
President
Malaysian Bar
21 September 2020