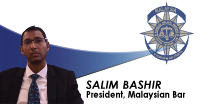 The Malaysian Bar is perturbed by the fact that there are still stateless children who are denied access to government schools. It was recently reported that there have been several incidences of stateless children in Penang who were denied enrolment into government schools due to their lack of a passport.1
The Malaysian Bar is of the view that such a requirement by the Ministry of Education would make it extremely difficult for stateless children to be enrolled in government schools. It is almost impossible for stateless children to provide passports as the biological parents of these children are not in Malaysia, or their parents' country of origin did not issue passports to children who were born outside the country. Furthermore, many adopted parents or guardians of stateless children are not aware of the procedures necessary to obtain a passport for their children. Previously, adopted parents of stateless children only had to furnish a court order and documentation of the adoption for their adopted children to register for government schooling.
Education is a fundamental human right that is enshrined in many international conventions. Under Article 26 of the Universal Declaration of Human Rights ("UDHR"), it is stipulated that all persons shall have the right to free and compulsory education, at least in the elementary stages.2 Pursuant to Article 28 of the Convention on the Rights of the Child ("CRC"), state parties must make primary education compulsory and available to all.3 The Malaysian Bar takes the view that unnecessary bureaucracy will only make the lives of these stateless children even more arduous, and it will affect them adversely if they are unable to receive formal education.
Therefore, the Malaysian Bar calls on the Ministry of Education and the Malaysian Government to review their policies on requirements imposed on stateless children. They should streamline the process throughout the country and notify the respective state education departments about the policies and rights of stateless children when enrolling in government schools. No policy should deprive or hinder a child's access to education just by virtue of their citizenship. The authorities must take cognisance of the importance of education to children. An individual's basic right to education must be upheld and protected. Children, whether they are Malaysian citizens or not, must be equipped with learning and skills in order to improve their prospects and prepare them for the future.

Salim Bashir
President
Malaysian Bar
4 February 2021
---