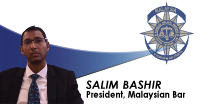 The Malaysian Bar is appreciative of the Government's establishment — through its Legal Affairs Division (Bahagian Hal Ehwal Undang-Undang) — of a specialised mediation centre called Pusat Mediasi COVID-19 ("PMC-19"). The objective of PMC-19 is to assist the public in resolving certain disputes due to being unable to perform certain contractual obligations as a result of the restrictions arising out of the COVID-19 pandemic.
The Malaysian Bar has been appointed to implement and manage this initiative, including the appointment and training of accredited mediators from the Bar Council Malaysian Mediation Centre's ("MMC") panel.
Under the Temporary Measures for Reducing the Impact of Coronavirus Disease 2019 (COVID-19) Act 2020 ("COVID-19 Act"), section 9 provides that any dispute in respect of any inability of any party or parties to perform any contractual obligation arising from particular categories of contracts specified in the Schedule contained in the COVID-19 Act, may be settled by way of mediation. This is for COVID-19-related dispute matters and which involves the disputed sum of not more than RM300,000.
The coming into force of the COVID-19 Act presents the much-needed assistance sought and expected by the many affected parties, in such nebulous and uncertain times. One such form of assistance can be found in section 20 of the COVID-19 Act, which increases the minimum debt threshold to file a bankruptcy petition from RM50,000 to RM100,000. This will curtail the number of bankruptcy proceedings brought against defaulters, and enable them to carry on servicing their debts without the unnecessary legal constraints brought about by bankruptcy during this dire economic situation.
The Act also extends the limitation period for legal actions to be taken in contract and tort as provided under the Limitation Act 1953. Under section 12 of the Act, "any limitation period specified in section 6 of the Limitation Act 1953 which expires during the period from 18 March 2020 to 31 August 2020 shall be extended to 31 December 2020." This extension will grant parties greater latitude to commence legal actions later in the year.
The Malaysian Bar hopes that the Government will consider extending these limitations provided in the COVID-19 Act until the year 2021. This would be particularly useful for the rakyat due to the ongoing Conditional Movement Control Order happening in most parts of the country. Such assistance would help alleviate the financial concerns of the rakyat.