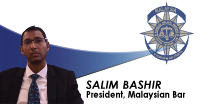 The Malaysian Bar is deeply perturbed by the military coup that has taken place in Myanmar. It has been reported that Myanmar's civilian leader, Aung San Suu Kyi was detained with other leaders of her National League for Democracy ("NLD") party, in early morning raids. This happened on the day when the Myanmar Parliament was due to convene — its first session after the November 2020 general election which delivered a landslide victory to the governing democratic NLD party. The reason cited for this coup is an alleged election fraud.1
Such a coup is an extremely retrogressive development. Democracy has been trampled once again by the military and is an absolute affront to the rule of law and human rights. We call on the Government of Malaysia to condemn these acts that run afoul of a modern and democratic society, and to call upon the Myanmar military to release all Governmental officials and civil society leaders.
The actions of some ASEAN member states to increasingly resort to semi-dictatorial and military processes to achieve their authoritarian aims, reflect badly on them. The military-controlled regime in Myanmar has now declared a state of Emergency for one year, which means that the country will be under military rule for a year, and power will now vest in the hands of the commander-in-chief of the armed forces.2
During these precarious times, we send our thoughts and prayers to the people of Myanmar and to our brothers and sisters at law in Myanmar. The Malaysian Bar will do whatever we can to support them in their struggle for democracy and freedom.
Salim Bashir
President
Malaysian Bar
1 February 2021
---
1 "Myanmar military seizes power, detains Suu Kyi", Malaysiakini, 1 February 2021.
2 "Myanmar military declares one-year state of Emergency", Malay Mail, 1 February 2021.