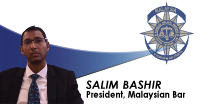 The Malaysian Bar is concerned about the statements recently made by Senior Minister (Security) and Defence Minister, YB Dato' Sri Ismail Sabri Yaakob, where he endorsed the management of strata properties, such as apartments and condominiums, with the right to screen non-Malaysian residents for COVID-19. Allowing the management of properties to take this kind of action will stoke fear among non-Malaysians and xenophobia against this community, which includes migrants and refugees.
There are no provisions under the Strata Management Act 2013 ("SMA") [Act 757] that permit the Joint Management Body ("JMB") or Management Corporations ("MCs") of strata properties to demand residents to undergo COVID-19 testing and bar entry to those who do not comply. The powers of the JMB are stipulated under section 21(1) and (2) of this Act, while the powers of MCs are provided under section 59 of the Act. According to the SMA, the management can make or amend additional by-laws in order to enhance safety and security measures. However, the Malaysian Bar is of the view that this cannot be used to violate the property rights of owners or residents. Moreover, any additional by-laws for residents should only be done upon approval during the Annual General Meeting of management bodies. It should also be noted that pursuant to Article 13(1) of the Federal Constitution, "no person shall be deprived of property save in accordance with law."
It should also be noted that the Prevention and Control of Infectious Diseases Act 1988 [Act 342] — the very act that is being utilised to deal with the COVID-19 pandemic — does not grant powers to the management bodies of strata properties to deprive entry of residents into their homes. It also does not mandate COVID-19 testing before allowing residents entry into their homes.
The Malaysian Bar also takes the stance that these laws should apply to both Malaysian citizens and non-Malaysians alike. Furthermore, mandating COVID-19 tests will undoubtedly cause financial distress to migrant workers and refugees who mostly fall under the B40 financial group. Non-Malaysians must be treated equally and with respect, without subjecting them to being discriminated against by virtue of their citizenship.
Therefore, we urge the Honourable Minister to take cognisance of the current laws in relation to this issue before making decisions. Management bodies must adhere strictly to the provided laws to ensure stability in their property. The rights of their residents should not be compromised even during our battle against the COVID-19 pandemic.
Salim Bashir
President
Malaysian Bar
2 February 2021