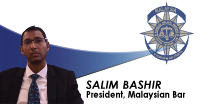 It was recently reported that unscrupulous law firms have now resorted to using pupils in chambers to act as touts.
1
Touts are individuals who receive payment from law firms in return for securing clients for them. The Malaysian Bar is deeply concerned about this matter, as it is entirely unacceptable to the legal profession and is detrimental to public interest.
Law firms that use pupils as touts usually target vulnerable individuals who face pending legal troubles, and apply pressure on them to engage the firms that the touts represent. The act of touting is deplorable as it seeks to financially exploit those who are in desperate need of help. The Malaysian Bar has consistently denounced touting, and we have sought to discourage and stamp out touting by, among others, lodging complaints with the Advocates and Solicitors Disciplinary Board ("ASDB") against Members of the Bar who engage in touting.
Touting amounts to professional misconduct pursuant to section 94(3)(h) of the Legal Profession Act 1976 and Rule 51 of the Legal Profession (Practice and Etiquette) Rules 1978. A Member can face various sanctions if found to be in breach of these rules, including being suspended from practice or struck of the Roll. Pupils who are found to be engaged in touting could potentially be prohibited from being called to the Bar due to any complaints of a disciplinary nature.
The Malaysian Bar urges the authorities to thoroughly investigate such offences in order to eliminate the menace of touting, once and for all. We urge members of the public to report any sort of touting behaviour to the ASDB, and are reminded to be cautious and not fall prey to them. The public should insist on receipts when they make payments to law firms. With the recent launch of the Malaysian Bar's Digital Membership Card, members of the public can actually request the person approaching them to provide proof of their identity as an advocate and solicitor.
Pupils can accompany their pupil master to Court, however, they are not allowed to approach potential clients, or make attempts to secure cases for their pupil masters. They are reminded to uphold their integrity at all times and to not act in a manner that can bring the legal profession into disrepute. The Malaysian Bar stresses that pupils are not to be used as tools to carry out unethical or prohibited actions on behalf of law firms. Pupils are free to make reports against their pupil masters to the ASDB or to inform the Bar Council or State Bar Committees if they are forced by their pupil masters to tout, even if this means that they will be asked to leave the firm and continue their pupillage elsewhere.
The Bar Council, through the State Bar Committees, regularly engage with the Courts and other authorities to stamp out touting. However, due to the complexity and prevalence of touting in certain spheres of legal practice, such efforts may not be sufficient. The Malaysian Bar calls on the assistance and involvement of everyone to report such incidences to the ASDB or the Bar Council so that we are aware and can take the necessary steps. In the past, there have been instances where the police have taken action and touts have been charged in Court.
Justice cannot be administered fairly if there are unscrupulous individuals who take advantage of members of the public. The Malaysian Bar is willing to work closely with the relevant authorities, to decisively quash this abhorrent practice of touting.
Salim Bashir
President
Malaysian Bar
11 March 2021