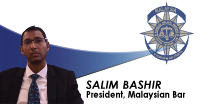 It was reported on 7 December 2020 that the High Court had granted the former Federal Territories minister, YB Datuk Seri Tengku Adnan Tengku Mansor ("Tengku Adnan") a discharge not amounting to acquittal ("DNAA") in relation to a RM1 million corruption case, where he was charged under section 24(1) of the Malaysian Anti-Corruption Commission ("MACC") Act. The prosecution applied for a DNAA as there were apparently new developments in the case. The trial of Tengku Adnan was scheduled to resume today.1
In light of the above, the Malaysian Bar calls on the Attorney General's Chambers ("AGC") to provide the detailed grounds of this "new development" on which the DNAA application is premised on. The application raises questions on the investigations at this stage, right before resumption of Tengku Adnan's trial. It is also very concerning that no time frame on further investigating this "new development", has been provided.
We take the view that the Public Prosecutor, in the exercise of his constitutional powers and discretion to discontinue a prosecution in such a high-profile case, needs to provide valid, rational and cogent reasons for his decision. The wide discretionary powers held by the Public Prosecutor in criminal proceedings must be comprehensively deliberated on and weighed against the rule of law.
The Malaysian Bar therefore stresses that the public has the right to know the detailed explanation behind DNAA applications or withdrawal of charges in matters pertaining to public interest.
---