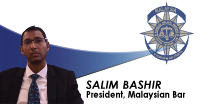 In the wake of the findings of the Shah Alam Coroners Court on 21 December 2020 on the death of Thanabalan Subramaniam,1 who died in police custody in 2018, the Malaysian Bar calls for the setting up of an independent external organisation to investigate all deaths in custody. It is our view that external civilian oversight systems will be able to complement and enhance the existing mechanisms and create accountability for detention authorities.
The Malaysian Bar applauds the Coroner's decision but also calls on the Government to consider establishing custodial medical units at detention centres throughout the country. When a person is brought to legally sanctioned custody, the law imposes a duty on the custodial officer to ensure the health and safety of the person in custody.
Detention authorities must ensure that medical treatment is available for all suspects, especially those with health risks and pre-existing conditions. The Malaysian Bar also calls for detention authorities to ensure the proper sanitation of these lockups, and that basic amenities should be made accessible in all places of detention.
The Malaysian Bar hopes that based on the decision of the Shah Alam Coroners Court on the unfortunate and preventable death of Thanabalan Subramaniam, a thorough and extensive investigation must be conducted in order to bring those responsible for his death, to justice.
---