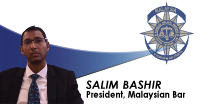 The Malaysian Bar respects the recent landmark Federal Court decision that held that the Selangor state legislature does not have the right to pass a Syariah law pertaining to offences of carnal intercourse as it is unconstitutional.1 The nine-person bench of the Federal Court held that Parliament holds the primary power to enact criminal laws within the Federal List of the Constitution, and such laws cannot be made under the Syariah state legislation.
The Federal Court had acknowledged the preclusion clause in item 1 of the State List as provided in our Constitution, which states that there are certain matters that are excluded from the jurisdiction of Syariah state legislatures. Pursuant to that view, the State List itself recognises that some matters of Islamic criminal law form part of the jurisdiction of Parliament and are assigned to Federal law. Hence, they naturally fall outside the legislative functions of state legislatures.
The Federal Court took cognisance of the proposition made in the cases of Sulaiman bin Takrib v Kerajaan Negeri Terengganu (Kerajaan Malaysia, intervener) and Other Applications2 and Sukma Darmawan Sasmitaat Majda v Ketua Pengarah Penjara Malaysia & Anor3, in considering the issue of the preclusion clause, and the phrase "precepts of Islam" during its determination of the constitutionality of the impugned provision of section 28 of the Syariah Criminal Offences (Selangor) Enactment 1995 ("1995 Enactment"). The Federal Court has made it clear that all state legislatures in Malaysia do possess the power to enact offences against the precepts of Islam, however they are still subject to constitutional limits and to matters that are not provided by Federal laws. This decision has effectively clarified that there are two distinct systems of law — one of general criminal law, and another of religious law. With these two systems in place, laws can be applied without discrimination towards its citizens.
It is pertinent to note that there is a variation between the sentencing of offenders who commit carnal intercourse against the order of nature in the 1995 Enactment and the Penal Code. It is the Malaysian Bar's view that everyone is equal before the law, and there should be no discrimination by virtue of religion. Everyone should be entitled to the same legal processes and penalties under criminal law. Article 8 of the Federal Constitution stipulates that all persons are equal before law and entitled to equal protection, and this principle must be upheld.
Salim Bashir
President
Malaysian Bar
25 February 2021