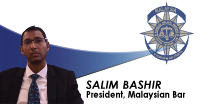 It was determined by the Federal Court on 13 August 2020 ("Letitia Bosman's case") that only Parliament has the power to enact legislation on offences and to prescribe punishments for the offences, including mandatory death penalty.1
In light of this landmark majority verdict delivered by the Federal Court, the Malaysian Bar renews its call to the Government to consider abolishing death penalty as a form of punishment.
While acknowledging the strong dissenting opinion expressed in Letitia Bosman's case, it is trite now that only Parliament has the power to legislate offences and prescribe punishments. However, in other instances, against the backdrop of the Federal Court decisions in Alma Nudo Atenza2 and Semenyih Jaya3 , the Judiciary is empowered as the gatekeeper to strike down any laws that are against the Federal Constitution.
The Malaysian Bar also proposes the establishment of a sentencing council for non-capital punishment cases, comprised of all the stakeholders in the administration of justice.
---
2 Alma Nudo Atenza v PP & Another Appeal [2019] 3 MLRA 1.
3 Semenyih Jaya Sdn Bhd v Pentadbir Tanah Daerah Hulu Langat [2017] 1 LNS 496.