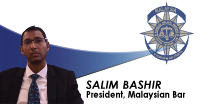 The Malaysian Bar welcomes the Government's decision to look into the drafting of a special law to deal with cases related to contempt of court.1
The Malaysian Bar views that the vague elements of common law contempt of court have to be codified to provide a clear and unequivocal definition of legal concepts, and formulate a fair and clear law in this area.
The law of contempt is integral to the administration of justice, and in various jurisdictions including India, Singapore and the United Kingdom, the law of contempt has been reduced into statute. Over and above this, the United Kingdom has abolished the offence of "scandalising the court".
The issue of contempt is a matter that has concerned the Bar for several decades. At the 53rd Annual General Meeting ("AGM") held on 20 March 1999, the Malaysian Bar called for "the clear specification in statutory form of the scope and extent of the law of contempt" and that a "custodial sentence should not be imposed for contempt of court except perhaps for the most serious cases imaginable". Following this, the Bar Council submitted a memorandum and a draft proposed legislation on contempt of court to the authorities, including the Attorney General's Chambers.
A statute to deal with contempt of court needs to consider and examine the relevancy of certain elements, the defences available, and the maximum penalty allowed.
The Bar Council is in the midst of drafting an updated version of the draft legislation that had been proposed in 1999 taking into account relevant events and developments in the law, and looks forward to working closely with the Government by providing suggestions and input towards realising the codification of the law of contempt.