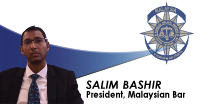 The Malaysian Bar is dismayed and deeply concerned to learn about another death resulting from a pothole-related accident in the Klang Valley, this time involving a food delivery rider. This is the second death in the span of two days, the first one being a 75-year-old senior citizen. The frequency and severity of such accidents in our country is unacceptable and proper steps must be taken to prevent any future tragedies from occurring.
It was recently reported that the Shah Alam High Court had granted a Pakistani national's appeal to claim RM48,700 for negligence against the Government for injuries sustained after he was involved in a pothole accident in 2014.1 It is doubtless that the Public Works Department owes a duty of care to road users, and that the risk of harm of a pothole had materialised.
In order to bring an action against the Government in a civil suit, the limitation period is 36 months from the date of the breach or damage arising from the negligent act pursuant to section 2 of the Public Authorities Protection Act 1948. Government agencies can be held vicariously liable for the negligence in maintaining road worthiness and the failure to perform their statutory duties in ensuring the safety of road users.
Under the Road Transport Act 1987, individuals may be charged with reckless or dangerous driving. It should be noted that the condition of the road is pertinent: There are situations where drivers can be charged for reckless driving resulting in accidents, but the fact is that these may have been due to the unworthiness of the road that led to the drivers attempting to swerve their vehicles to avoid potholes, and which subsequently caused the accident.
It is the Malaysian Bar's view that poor maintenance works must be regarded as a threat to national well-being and must be handled with the utmost priority. The Malaysian Institute of Road Safety Research ("MIROS"), which is an agency under the Ministry of Transport, and which serves to disseminate knowledge and information about road safety, has the responsibility to intensify actions on raising awareness about road safety and the dangers of potholes to road users.
The Malaysian Bar therefore calls on the Government and all the relevant authorities to take immediate action to ensure that roads are maintained well to ensure the safety of the public.
Salim Bashir
President
Malaysian Bar
5 January 2021
---
1 "Pakistani pothole victim gets RM50,000", Free Malaysia Today, 31 December 2020.