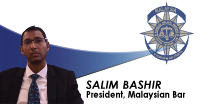 The Malaysian Bar is very concerned by reports received from law firms regarding the problems they face relating to e-filing, which according to the Chief Registrar of the Federal Court, shall proceed as normal, as stated in their directive to the Courts and the Bar Council, on 17 March 2020.
Members of the Bar are facing great difficulty in complying with deadlines in the e-filing of cause papers and other documents in Court, as a result of the Movement Control Order ("MCO"). Such e-filing work would necessarily require contravention of the MCO.
Hence, the Malaysian Bar urgently calls on the Judiciary to reconsider matters pertaining to e-filing as contained in the directive, and requests the Judiciary to exercise discretion fairly and mercifully in entertaining extension of time applications after 31 March 2020, by taking into account the calamity facing large number of lawyers, who are unable to do e-filing of documents, notices and other ancillary applications within the required period of time under the law.
The Malaysian Bar has been made to understand that, due to the MCO, a number of lawyers are unable to access their physical offices, for the purpose of retrieving files, documents and using facilities to do e-filing as directed; while some are not able to engage with clients to obtain instructions. The Malaysian Bar hopes that the Judiciary appreciates the concerns and appeals from Members of the Bar, in time to come. We hope that our Members can be given some space to deal with the situation on the ground.