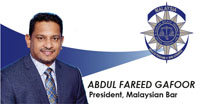 The Malaysian Bar lauds the tabling of the Independent Police Complaints of Misconduct Commission Bill 2019 ("Bill") by the Government in the Dewan Rakyat on 18 July 2019 in partial fulfilment of Pakatan Harapan's election promise to set up the Independent Police Complaints of Misconduct Commission ("IPCMC") in the first term of its administration.
We have repeatedly and consistently called for the establishment of an Independent Police Complaints and Misconduct Commission — as it was formerly referred to — ever since it was first proposed by the Royal Commission to Enhance the Operation and Management of the Royal Malaysia Police in its seminal report in 2005. We are happy to note that over the passage of time, there has been greater and greater buy–in from all stakeholders and in particular, the Royal Malaysia Police (Polis Diraja Malaysia, "PDRM"), as to the need for such an independent oversight mechanism. It is this buy–in that has paved the way for the tabling of this Bill.
We urge all Members of Parliament to give their fullest support to the passage of this Bill in the upcoming parliamentary sitting in October 2019. The establishment of the IPCMC is a crucial first–step, and the only way, in which the rogue elements in PDRM can be identified, isolated and held accountable for their misconduct and criminal acts. The establishment of the IPCMC will herald a new dawn of police accountability and public confidence in PDRM.
Upon the successful passage of the Bill by both Houses of Parliament, we urge the Government to swiftly and actively engage all relevant stakeholders in the drafting of the regulations that are to be enacted pursuant to the Bill.
In respect of the appointment of IPCMC Commissioners, we urge the Government to appoint persons of the highest possible standards of integrity and propriety, and who will act decisively with courage and competence. It is essential that the IPCMC Commissioners be persons who command public confidence, leaving no doubt as to their independence and impartiality.
The Malaysian Bar pledges our fullest support and cooperation to the Government in its very important work of making the IPCMC a reality.
Abdul Fareed Abdul Gafoor
President
Malaysian Bar
22 July 2019