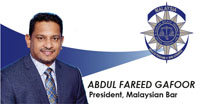 The Malaysian Bar wishes to congratulate Cecil Rajendra, a Member of the Bar, on being awarded the International Bar Association ("IBA") Pro Bono Award for 2019.
1
Self–described as "a lawyer by profession and a poet by compulsion", Cecil Rajendra blazed a path for the Bar as we know it today, championing the establishment of legal aid clinics across the country, after initiating the first rural legal aid clinic — the Penang Legal Advisory Centre, in 1980.
After a storied entry into legal studies and the legal profession, Cecil was called to the Bar on 6 March 1978 and has over 40 years of legal experience under his belt. Throughout his time at the Bar, Cecil has served the Bar Council in various capacities, including as an elected member of the Bar Council, and as Chairperson of the Bar Council National Legal Aid Committee and the Bar Council Human Rights Committee.
It was in recognition of his dedication and exemplary lifetime service, and invaluable and outstanding contributions to the Bar that the Bar Council awarded Cecil Rajendra the Malaysian Bar Lifetime Achievement Award earlier this year.2
We at the Malaysian Bar are elated to hear that the deeds of our fellow Member have been similarly recognised by our peers internationally. We look forward to the presentation of the award to Cecil Rajendra on 26 September 2019 at the IBA Annual Conference, set to take place in Seoul, South Korea.
Abdul Fareed Abdul Gafoor
President
Malaysian Bar
4 September 2019
---