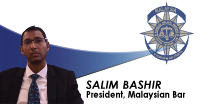 Employers and employees are reminded that workers are entitled to employment rights such as minimum wage, annual leave, termination or lay-off benefits payment and most importantly, the right to a safe workplace as provided under the Occupational Safety and Health Act 1994.
In this regard, the Malaysian Bar welcomes the Selangor Government's decision to give one final chance to legalise the operations of unlicensed factories and landowners by the end of this year.1 Legalisation would ensure that the workers receive their entitlement as employees, as the factories need to adhere to the relevant laws and regulations, including the Occupational Safety and Health Act 1994, Employment Act 1955 and Factories and Machinery Act 1967.
Much more can be done to better safeguard workers' right to a safe workplace. The Malaysian Bar proposes increasing the capacity of the Department of Occupational Safety and Health ("DOSH") to handle the responsibility of administration and enforcement of legislation related to occupational safety and health. This would ensure that the employers who have flouted the Occupational Safety and Health Act 1994 and its regulations, are prosecuted expediently and punished for causing unnecessary injury or casualty to workers.
In line with the International Labour Organization's Promotional Framework for Occupational Safety and Health Convention, 2006 (C187) as ratified by Malaysia in 2012,2 the Malaysian Bar also calls upon the Federal Government to introduce stricter legislation on workplace safety in order to provide a more conducive working environment for workers in our country.
Salim Bashir
President
Malaysian Bar
17 September 2020