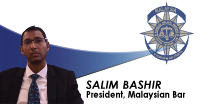 The Government has appointed The Honourable Tan Sri Datuk Suriyadi Halim Omar as the new Director of the Asian International Arbitration Centre ("AIAC") for the term of 2020 to 2022, effective 1 December 2020.1
We congratulate Tan Sri Datuk Suriyadi on his illustrious appointment and wish him the very best in his new position. His role is absolutely pivotal in retaining and enhancing the trust placed in the AIAC by the domestic and international communities. The AIAC has always been a strong and ardent supporter of the Malaysian Bar through its sponsorship of our activities, and has partnered with the Malaysian Bar in enhancing Members' knowledge in the field of arbitration. We look forward to working closely with Tan Sri Datuk Suriyadi in continuing and further enhancing our strong working relationship.
Under the leadership of Vinayak Pradhan, the AIAC has strengthened its position as one of the leading international arbitration centres. We strongly believe that under the stewardship of Tan Sri Datuk Suriyadi, the AIAC will continue to evolve to achieve greater heights and further secure its place as a contender in international arbitration. We are pleased to note that all case management practices for all alternative dispute resolution matters, including arbitrations, adjudications, mediations and domain name disputes, will resume in December 2020, and all matters requiring the Director's consideration will be brought to his attention to be actioned upon.
We trust that Tan Sri Datuk Suriyadi, who was a former Federal Court Judge, has the requisite judicial experience to assist him in his new position.
Salim Bashir
President
Malaysian Bar
17 November 2020
---