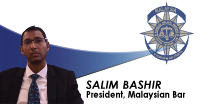 The Malaysian Bar welcomes the reinforced working relationship between Malaysia and the United Kingdom ("UK"), as part of its Brexit plan, through the inception of a Joint Committee on Bilateral Trade and Investment Cooperation ("Joint Committee") last month. As a result of actions by the Joint Committee, six working groups have been commissioned to enhance the relationship between our two countries.
It is pertinent to note that there is currently a working group that is seeking to improve market access in areas such as legal services and education. The Malaysian Bar is looking forward to working with the British High Commission and other relevant stakeholders to discuss matters relating to our mutual interests. There are currently several British law firms that are operating in Malaysia, albeit in limited numbers.
We currently have an Ad Hoc Committee on Legal Services Blueprint that has been working on pioneering a holistic plan for the development of legal services in Malaysia. The Committee is tasked to work closely with the Judiciary, the Attorney General's Chambers as well as other stakeholders with the objective of propelling the growth and continued improvement of legal services in our country. The Malaysian Bar hopes that legal services can contribute to a significant part of our nation's Gross Domestic Product ("GDP") growth.
Taking inspiration from the Joint Committee, the Malaysian Bar invites other countries, through their representatives in Malaysia, to forge a strong bilateral relationship with the Malaysian Bar, to enhance the legal services of both jurisdictions. We sincerely hope that the Government, through relevant agencies such as the Malaysia External Trade Development Corporation ("MATRADE"), Immigration Department of Malaysia, Asian International Arbitration Centre ("AIAC") and others, can facilitate the achievement of this ambitious venture.
We are hopeful that at the dawn of a new year, our Government can assist our local legal practitioners by expanding our legal services to foreign markets. This would be particularly useful in the age of globalisation and digitalisation. As the regulator of the legal profession in Peninsular Malaysia, the Malaysian Bar stands ready to assist and provide any input where necessary, to enable this objective to be realised.
Salim Bashir
President
Malaysian Bar
31 December 2020